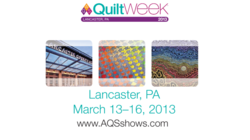 AQS QuiltWeek offers quilters a full and exciting experience
Lancaster, PA (PRWEB) February 04, 2013
The American Quilter's Society, headquartered in Paducah, KY, presents the debut of AQS QuiltWeek™ in Lancaster, PA, from March 13 – 16, 2013. More than 15,000 will converge upon Lancaster County in the heart of Amish Country to enjoy four full days surrounded by the best in international quilt and textile artistry. More than 300 quilts will be on display amid Pennsylvania's largest quilter's merchant mall, while visitors can learn from the best in quilting instruction in the AQS School of Quiltmaking.
AQS QuiltWeek celebrates the art of quiltmaking by showcasing the stunning masterpieces created by today's textile artists. The American Quilter's Society presents quilters and fabric lovers a chance to explore and enjoy the creativity of quilters from around the world. By bringing together over 100 merchants, more than 300 works of fiber art, two international exhibitions, and the leading instructors in quilting, AQS QuiltWeek offers quilters a full and exciting experience.
AQS QuiltWeek will host two internationally celebrated exhibits of textile artwork. Making its North American Debut, Beneath the Southern Sky features 30 works from artists across four continents. Curated by Brenda Gael Smith, the collected quilts showcase quilters' diversity in technique, style, and subject matter. Returning from Egypt, the Stitch Like an Egyptian exhibit will showcase stunning creations of appliqué. Accompanying the works will be Tarek Abdelhay and Hosam Hanafy, eager to meet visitors and demonstrate their amazing appliqué techniques.
Evening events feature world-renowned celebrities presenting their unique spin on fabric, quilting, and life as the quilting industry continues to evolve. Kaffe Fassett, internationally acclaimed textile designer, hosts the first evening event. On Thursday, author and television host Alex Anderson shares her personal experience in the quilting industry. Quilter's Hall of Fame honoree Eleanor Burns finishes the day Friday with her humorous and enlightening take on life in quilting.
The high point of the show recognizes the artistry of today's quiltmakers, as over 200 quilts in the AQS Quilt Contest are competing for more than $44,000 in cash awards. Entries in this international contest come from 43 states and 7 other countries.
Admission to AQS QuiltWeek includes access to all special exhibitions and the merchant mall with more than 200 vendors. Hours are Wednesday, March 13 through Friday, March 15 from 9 a.m. to 6 p.m., and Saturday, March 16, 9 a.m. to 5 p.m.
----------
The American Quilter's Society is the largest quilting membership organization in the world. For almost 30 years, AQS has been the leading voice in quilting inspiration and advice, through a broad suite of products—magazines, books, live events, contests, workshops, online networks, patterns, fabric, and catalogs. At AQS, we believe that with inspiration and advice, the creatively minded can take their quilting projects beyond what even they had imagined. That is why inspiration is central to everything we do. The leading authors in quilting choose to publish with AQS; the best in quilt artistry select AQS events to display their work; the newest quilters learn from the knowledge and inspiration of AQS members.