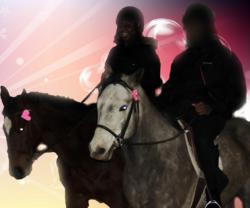 Love is in the air this month at Spruce Meadow Farm!
Clarence, NY (PRWEB) February 04, 2013
Spruce Meadow Farm Inc is a family-owned horseback riding facility and farm in Clarence, New York. The business prides themselves on a relaxed, welcoming atmosphere, while still providing spectacular services and technically advanced riding lessons to their customers.
This February, the facility invites guests to experience their new "Date Lessons", offered just in time to make a great surprise gift for Valentine's Day! Love is definitely in the air this month at Spruce Meadow Farm!
Couples can expect an approximately 90 minute lesson that includes an introduction to grooming and tacking their horses, learning riding skills and playing "couples games" on horseback. Before leaving they will receive a special gift bag.
There is a discount coupon for $10 off a date lesson during February if you are looking for a good deal! Just visit the home page of the website at http://www.SpruceMeadowFarm.com
Parents looking for the perfect mid-winter treat for their children will find the center's winter break horse camp satisfying for every young rider. This year's February Winter Break Camp will be held from Monday, February 18th through Friday the 22nd.
If you visit the website you will find a big discount for the upcoming camp week! The kids keep busy learning all kinds of things from how to ride and care for the horses to building horse jumps.
Girl and Boy Scout groups will find that Spruce Meadow Farm can accommodate their specific needs as well, with badge programs designed to help young scouts learn the ins and outs of horseback riding while having a great time.
The farm is also a great choice for a romantic rendezvous, which often includes proposals and wedding party events in addition to the new "Date Lessons."
Holiday themed riding events and parties are also common, from spooky Halloween costume bashes to balmy summertime luaus.
If customers have their own idea for an event at the Spruce Meadow Farm, the facility's professional staff will happily provide a customized personal "dream theme" for almost any gathering imaginable.
The owners urge any curious customers to call them with any questions about upcoming gatherings, and perhaps book a theme party of their very own.
About the company:
Located at 10333 Keller Road in Clarence, New York, Spruce Meadow Farm focuses on English horseback riding and offers boarding & leasing, training, pony parties and rides, horse lesson riding, horseback riding camps, horse shows, clinics, all kinds of horseback riding in New York and much more!
They take pride in their friendly atmosphere, facilities and the effectiveness of their programs, and invite people to experience it for themselves.
At Spruce Meadow Farm, they want all animals to find safe, loving homes. For more information, please visit their site at http://www.sprucemeadowfarm.com