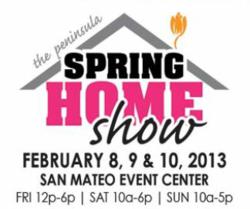 San Mateo, CA (PRWEB) February 03, 2013
World Class Shows, proud organizer of home improvement and garden shows throughout the Bay Area, takes great pride in announcing the upcoming Peninsula Spring Show in San Mateo, CA, Feb. 8th. The weekend event will host the finest home improvement specialists and contractors in the Bay Area, all offering their best deals possible. With new products, huge savings, and prizes, the event is shaping up to be something truly special.
The Peninsula Spring Show will take over the San Mateo Convention Center from Feb. 8-10th and feature contractors and designers showing off the latest trends and projects they'll offer for the coming year. As well as direct interaction with leading contractors and an inside look at the work they accomplish, attendees will have access to specials and coupons completely unavailable to customers that do not attend the Spring Show. With over $10,000 in prizes and free admission, there is no obligation to buy or do anything more than observe while gathering ideas for personal home improvement plans.
World Class Shows promises that the Bay Area's finest contractors in a number of fields will be on hand at the home show, including home improvement professionals in:

Green Building and Living
HVAC
Roofing
Flooring
Plumbing
Kitchen and Bath
Landscaping
And many more.
This year's incarnation of the Peninsula Spring Show will feature brand new products and exhibits as well. The all new garden show addition will host a complete selection of flower and plant sales to prepare for early spring gardening. Also, the U.K.'s prestigious Kensington Cabinetry of London will be on hand to unveil their first US line of handmade garden rooms.
The Peninsula Spring Show will host attendees and contractors in home improvement from 12:00 pm – 6:00 pm on Friday Feb. 8th, and 10:00 am – 6:00 pm on Saturday and Sunday Feb 9th-10th. With all of the Bay Area's finest contractors and designers under one roof and free admission to all convention goers, the Peninsula Spring Show is shaping up to be the premier garden and home show of the year.