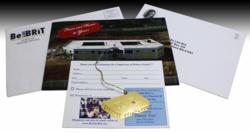 Our mission is to make Britney's last wish come true ...
Milford, MA (PRWEB) February 05, 2013
"Be Like Brit is a non-profit 501(c)(3) organization that was established in January of 2010 following the tragic earthquakes that devastated Haiti and tragically killed our daughter, Britney Gengel," states Cherylann Gengel, co-founder of Be Like Brit and Britney Gengel's Poorest of the Poor Fund, Inc. both located in Rutland, MA. Continues Ms. Gengel, "our mission is to make her last wish come true by establishing a safe, nurturing and sustainable orphanage in an environment where the children of Haiti can grow, learn and thrive. Fortunately, we discovered right in our backyard a company named PEI (Photofabrication Engineering Inc.) that makes custom holiday ornaments and keepsakes so we could design something that would help us thank our growing donor base as well as inspire further efforts on the groundbreaking orphanage set up in my daughter's memory. The Be Like Brit orphanage is located in Grand Goave (about a 2 hour drive from Port Au Prince, Haiti)."
PEI's Lead Decorative Designer, Doug Pyron, makes it clear that "customizing an ornament to 'wow' donors and volunteers while reinforcing the non-profit's mission are the challenges we love to undertake, and undertake readily, especially when the development team is so generous of their time to express the institution's vision, mission and story. For the 2012 ornament, we focused on replicating the Be Like Brit orphanage, which is shaped in the letter B, and we added a 3D dimensional effect out of flat brass finished in gold that didn't break the budget."
Chip Lehrer, President of PEI, describes the partnership between Be Like Brit and PEI as "a solid business relationship, but one cannot help but be touched and inspired by the story of Britney so seeing this annual ornament project come together makes our jobs even more fulfilling."
For more information about Be Like Brit (an official U.S. Non-Profit 501(c)(3) Organization) and Britney Gengel's Poorest of the Poor Fund, Inc. visit http://www.BeLikeBrit.org; call 1-508-886-4500 or email support(at)BeLikeBrit(dot)org. For more information about Photofabrication Engineering, Inc. ("PEI") and museum-quality commemoratives, ornaments and keepsakes all made in the USA, please visit http://www.decorativeetching.com; call 1-508-478-2025; email pei(at)photofabrication(dot)com; or see the YouTube video.