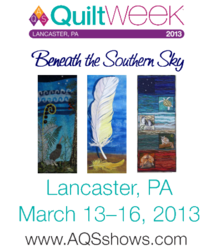 We're excited to bring work from four continents to Lancaster County, known as a bastion of quilt tradition and history.
Lancaster, Pa. (PRWEB) February 11, 2013
The American Quilter's Society, headquartered in Paducah, KY, presents the North American debut of "Beneath the Southern Sky" at AQS QuiltWeek™ in Lancaster, PA. Curated by world renowned quilter Brenda Gael Smith, this exhibit has never been seen in the United States.
This collection of textile artistry includes work from 30 of the leading international quilt artists, spanning four continents. All composed exclusively for this exhibit, each piece provides a unique interpretation of the title theme. Whether using hand-or-machine-quilting techniques; hand-dyed or printed fabrics; machine piecing or raw-edge appliqué, the works in this exhibit illustrate the beauty and diversity of quilting today.
Bringing this exhibit from Australia to the heart of Amish country in Lancaster, PA, AQS hopes to share a glimpse of the diversity found in the original American art form of quilting. AQS Executive Show Director, Bonnie Browning, notes: "We're excited to bring work from four continents to Lancaster County, known as a bastion of quilt tradition and history."
Brenda Gael Smith, curator of the exhibit, wanted to explore the ingenuity and creativity of today's quilters by issuing a challenge to some of the world's best quilters. All the resulting works are united by the common title theme and the striking 16" by 39" banner format. Brenda Gael Smith said she sought to "select works that convey a sense of place and showcase a diverse range of techniques and materials."
Admission to the exhibit is free with admission to AQS QuiltWeek. Hours are Wednesday, March 13 through Friday, March 15 from 9 a.m. to 6 p.m., and Saturday, March 16 from 9 a.m. to 5 p.m.
----------
The American Quilter's Society is the largest quilting membership organization in the world. For almost 30 years, AQS has been the leading voice in quilting inspiration and advice, through a broad suite of products—magazines, books, live events, contests, workshops, online networks, patterns, fabric, and catalogs. At AQS, we believe that with inspiration and advice, the creatively minded can take their quilting projects beyond what even they had imagined. That is why inspiration is central to everything we do. The leading authors in quilting choose to publish with AQS; the best in quilt artistry select AQS events to display their work; the newest quilters learn from the knowledge and inspiration of AQS members.