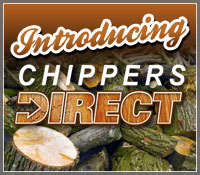 The relative growth of this category [wood chippers] is impressive and inspired us to spin off chipper shredders into their own web store
Bolingbrook, IL (PRWEB) February 02, 2013
Today Power Equipment Direct announced the addition of its twelfth web store, Chippers Direct.
"Wood chippers are a growing category, both within the consumer and professional segments," said Power Equipment Direct President, Jon Hoch. "The relative growth of this category is impressive and inspired us to spin off chipper shredders into their own web store."
Chippers are used in yard cleanups, especially following storms which down numerous trees. A heavy-duty flywheel turns a series of large grinding knives at a high speed, decimating branches and logs into tiny bits. In turn, the pulverized logs can be used as homemade mulch around the yard.
The dedicated online retailer has assembled a lineup of electric, gas and PTO-powered chippers, as well as a full complement of chipper shredder vacuums.
Chippers Direct publishes product recommendations and customer reviews, as well as a comprehensive buyer's guide to help shoppers select the perfect chipper shredder.
Since Power Equipment Direct was founded in 2002, the company has expanded to 12 niche web stores and has established a reputation as one of the predominant players in the power equipment retail sector.
Power Equipment Direct operates 12 niche online superstores. The Bolingbrook, IL-based company operates AirCompressorsDirect.com, ChainSawsDirect.com, ElectricGeneratorsDirect.com, LeafBlowersDirect.com, LogSplittersDirect.com, MowersDirect.com, PressureWashersDirect.com, SnowBlowersDirect.com, SumpPumpsDirect.com, TillersDirect.com and WaterPumpsDirect.com.