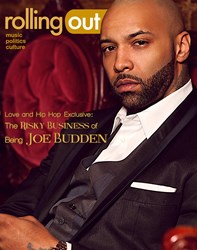 Atlanta, GA (PRWEB) February 01, 2013
Rolling out sits down with "Love & Hip Hop's" newest cast mate Joe Budden to discuss his role on the VH1 reality series, which isn't our first invitation into Budden's life as he installed cameras in his home years ago. The cameras captured his tumultuous relationship with his curvaceous then-girlfriend Tahiry, and his reality star fame was born.
Since then, Budden has had several very public relationships and suffered loss and setback. He speaks candidly with rolling out about his new album, titled No Love Lost, personal shortcomings and addiction. Joining the cast of "Love & Hip Hop" is just another chapter in Budden's story– one he feels will help others deal with their own tribulations. "I'm just thankful that rolling out would even consider having me on the cover. I appreciate it. It was a great shoot, great interview. Hopefully the fans enjoy it," Budden offers modestly.
Visit rollingout.com to read the interview in its entirety. Be sure to check out the exclusive photo shoot and video footage with celebrity photographer DeWayne Rogers.
About rolling out Magazine:
Rolling out, the nation's largest free urban weekly, is a digital and print magazine that focuses on the black experience in response to entertainment, politics, fashion, culture, sports and lifestyle points of interest. Headquartered in Atlanta, rolling out is positioned as the voice for the African American experience, using its newspaper as a platform in the marketplace to express urgency for education reform, and to document entrepreneurial endeavors and other relevant issues in the Diaspora. For information on rolling out, please log on to rollingout.com.