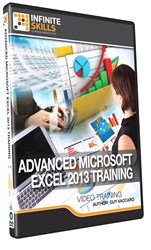 Advanced Excel 2013 Training. Learn At Your Own Speed
(PRWEB) February 03, 2013
Software training firm InfiniteSkills Inc. releases "Advanced Microsoft 2013 Training Tutorial," a course designed for experienced users of the standard office spreadsheet program. The course teaches a variety of mathematical functions used to perform high-level spreadsheet functions, helping office professionals manage and manipulate data on an advanced level.
Excel 2013, part of Microsoft Office 2013, is the latest release of Microsoft Excel and the first since the release of Office Suite 2010. Key improvements include increased capabilities for working with the internet and Microsoft's cloud services, SkyDrive and Office 365, and new templates for tables and charts.
InfiniteSkills Advanced Microsoft 2013 Training Video - DVD covers key updates in the latest version, teaching how to effectively integrate Excel's new cloud capabilities into a workflow. The course also goes in depth with mathematical functions and other features critical to maximizing Excel's extensive data-management capabilities.
Advanced Microsoft Excel 2013 Video Tutorial - DVD
Course author Guy Vaccaro has more than 15 years' experience with Excel and Office Suite training in classroom, manual writing, and computer-based formats. With a focus on Microsoft Office Suite, Vaccaro is especially accomplished in Excel and its uses in web and database functionality.
"The main new thing you're gonna see about Excel 2013," Vacarro says, "is that it's much more entrenched and linked with the cloud. You can use Skydive to access your files from anywhere in the world and Office 365 that allows you to access Office."
After a quick introduction to the course, Vaccaro dives in, getting right to the essential elements of advanced Excel usage. He covers the basics of using mathematical functions to perform various calculations in spreadsheets, paying special attention to IF statements and AND and OR statement— important commands that allow users to program cells to perform certain functions in certain circumstances.
The course continues by exploring more advanced concepts and techniques such as Lookups, which allow users to transport data from one sheet to another, and the new Sparklines which allow users to create miniature charts within an individual cell.
Other chapters cover creating custom views, using functions to manipulate text, working with arrays, working with PivotTables and PivotCharts, Macros, and much more, including several chapters dedicated to advanced functions.
Free demo videos and a full list of course contents can be found on the Advanced Microsoft 2013 training page of the InfiniteSkills website:
http://www.infiniteskills.com/training/advanced-microsoft-excel-2013-training.html
InfiniteSkills offers its Advanced Microsoft 2013 Tutorial either as a DVD or a direct download from the company website at a retail price of $99.95. The course is also available bundled with the introductory course, Learning Microsoft Excel 2013 Tutorial, at a discounted rate of 149.95 for both courses. Though the compatibility of covered programs varies, all InfiniteSkills titles and formats are both Mac and Windows compatible. Shipping is available around the globe. Additionally, InfiniteSkills tutorials are supported by project files which correspond to examples in the videos, allowing users to work alongside experienced instructors right on their computer or iPad.
About InfiniteSkills Inc.
A leader in the field of software training, InfiniteSkills strives to offer the highest quality training available at an affordable cost. InfiniteSkills tutorials are task-oriented instructional videos, teaching complex skills by providing hands-on examples and guiding users as they carry out critical objectives. InfiniteSkills offers a comprehensive range of software titles available as DVDs, digital downloads, and in iPad editions, keeping with company aim of delivering professional training to customers anywhere they want to learn.