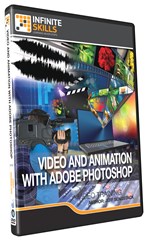 Learn To Edit Video In Photoshop
(PRWEB) February 04, 2013
Software training firm InfiniteSkills Inc. this week introduced its "Video and Animation with Adobe Photoshop Tutorial," a course designed for experienced users of Photoshop interested in using the image editor to perform basic video editing.
Video and Animation with Adobe Photoshop Video Training - DVD
As technology in smartphones and digital cameras has advanced in recent years, most still-cameras now include some level of video capability. Many smartphone models for instance now allow you to capture high-definition video footage using your phone's camera.
In response to this trend, Adobe Photohshop CS6 now includes some surprisingly effective options for basic video editing, filling a niche between the limited capabilities of lower end video editing apps and the professional level editors like Premiere Pro.
With Video and Animation with Adobe Photoshop Tutorial, InfiniteSkills now offers a guide to utilizing Photoshop capabilities to perform better, more efficient edits to your videos. While still a basic-level video editor, Photoshop offers many capabilities that low-end editors don't, giving Photoshop users an added advantage and plenty of options for creating crisp and clear personal videos.
Course author Jeff Sengstack is an expert in the Adobe Creative Suite software package. He worked as a radio DJ in college, and spent the first decade of his professional career in audio and video production for television. He currently teaches audio and video production on the college level, and has written several instructional books for Adobe products.
Sengstack's brings extensive experience in both the teaching and practice of digital audio and video production to his training. In the Video and Animation with Adobe Photoshop Training - DVD, he simplifies complex tools and techniques, allowing users to quickly adapt their Photoshop knowledge to video editing projects.
After covering the basic interface tools Photoshop provides for video editing such as the timeline and important keyboard shortcuts for editing, Video and Animation with Adobe Photoshop Tutorial explores how to work with video assets in the timeline, explaining how to add and adjust audio, and how to add text, shapes and graphics, all using the timeline.
Next, Sengstack goes into more detail with complex editing tools, exploring motion, filters, layer styles, and adjustment layers. The course then goes in detail with creating animation motion and effects using keyframes before closing with a chapter on exporting your work.
As Sengstack explains, "These days almost every still camera comes with some kind of video feature. Folks steeped in still photography are dipping their toes into the waters of video."
"You can take those videos and edit them right in Photoshop with the great tools Photoshop now includes for basic video editing."
Free demo videos and a full list of course contents can be found on the Video and Animation with Adobe Photoshop Tutorial training page of the InfiniteSkills website:
http://www.infiniteskills.com/training/video-and-animation-with-adobe-photoshop.html
InfiniteSkills offers itsVideo and Animation with Adobe Photoshop either as a DVD or a direct download from the company website at a retail price of $49.95. All InfiniteSkills titles and formats are compatible with Mac and Windows operating systems. Shipping is available around the globe. Additionally, InfiniteSkills tutorials are supported by project files which correspond to examples in the videos, allowing users to work alongside experienced instructors right on their computer or iPad.
About InfiniteSkills Inc.
A leader in the field of software training, InfiniteSkills strives to offer the highest quality training available at an affordable cost. InfiniteSkills tutorials are task-oriented instructional videos, teaching complex skills by providing hands-on examples and guiding users as they carry out critical objectives. InfiniteSkills offers a comprehensive range of software titles available as DVDs, digital downloads, and in iPad editions, keeping with company aim of delivering professional training to customers anywhere they want to learn.