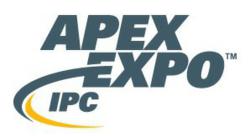 AIM Solder will explain the issues in which electronics continue to miniaturize but increase in functionality and into new applications
Cranston, Rhode Island (PRWEB) February 03, 2013
AIM Solder announces that it will present the paper "Conformal Coating Over No-Clean Flux" at the upcoming IPC APEX Expo, scheduled to take place February 19-21, 2013 at the San Diego Convention Center in San Diego, CA. This presentation will be held during session S12 titled "Fluxes and Pastes" on Tuesday, February 19th, from 3:15 pm - 4:45 pm.
The session will cover how reliable solder joint formation depends on the "design – paste- printing – reflow" process. Weakness in any of these areas means defects and decreased reliability. This session will highlight the choices an assembler has in pastes. Both the flux / vehicle and metal components of solder pastes will be covered. This session will enable you to build on your knowledge base and make the best choices in the quest for reliable solder joints.
The presentation will also explain the issues in which electronics continue to miniaturize but increase in functionality, electronic designers and assemblers face the issue of environmental exposure and uncommon applications. This reality, coupled with the goal of reducing the environmental and health implications of the production and disposal of these devices, has forced manufacturers to reconsider the materials used in production. These concerns, along with the need to implement a tin whisker mitigation strategy and an increase in environmental tolerance, have led to the issue of applying conformal coating over no clean residues.
The AIM Research & Development Department has united with OEM electronics and conformal coating manufacturers in an attempt to characterize the different coating technologies currently available. In this study, various coating materials were tested with different chemistries of no clean fluxes. Results demonstrate possible combinations meeting the mission profile of the assembly with consideration for the assemblers' capabilities and cost objectives.
###
About AIM
Headquartered in Montreal, Canada, with locations worldwide, AIM is a leading global manufacturer of assembly materials for the electronics industry. The company produces solder paste, liquid flux, cored wire, bar solder, adhesives, preforms, and specialty alloys such as indium and gold for electronics assembly, PC fabrication, component manufacturing, and other industries. For more information on how we can assist you visit http://www.aimsolder.com.