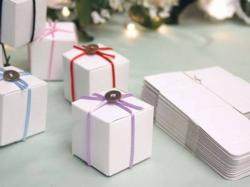 ...many brides look to put together their weddings themselves, fueled by keeping costs down and the increase of DIY wedding inspiration from sites like Pinterest.com
City of Industry, Calif. (PRWEB) February 05, 2013
Online retailer CraftsNFavors.com is calling 2013 the year of wedding creativity as many brides are projected to make unique decisions regarding everything from the dress to the venue to what's served at the reception.
CraftsNFavors.com, which offers wedding décor, wedding table linens, wedding favor supplies, artificial flowers, and more, has created a list of 2013 wedding trends to watch as brides prepare for their upcoming nuptials this year.
Taking into account what's graced the runways as well as popular wedding blogs and magazines, here's what's projected to be popular for brides looking to tie the knot in 2013:
Getting Colorful
Pink looks to be a very popular color for brides and bridesmaids alike in 2013, with many brides opting for blush gowns instead of traditional white. Runways showed a variety of colorful wedding gowns in 2012, enhancing the overall trend of non-traditional wedding gowns that stray from the expected. Other colors that will be big in 2013? Red, which has shown up on Vera Wang runways, and mint, which is becoming more and more popular for wedding table linens and bridesmaid dresses alike.
Engagement Sessions
With many couples looking to cut costs but still looking to celebrate engagements, engagement photo sessions have emerged as a popular way to share the happy news with friends and family without the additional cost. Engagement photo sessions can be an intimate, fun activity for couples, as there is a lot of flexibility with theme and setting.
DIY Favors, Invitations, & More
According to TheKnot.com and WeddingChannel.com, the average cost of a wedding in the United States is about $27,000 – and on the rise. Many couples looking to reduce their wedding budgets will opt for DIY details, from DIY wedding favors to DIY wedding invitations to cut costs in 2013. CraftsNFavors.com anticipates DIY wedding favor supplies, artificial wedding flowers, and other DIY details to be some of the top sellers in 2013 as many brides look to put together their weddings themselves, fueled by keeping costs down and the increase of DIY wedding inspiration from sites like Pinterest.com.
Comfort Food
Many couples are incorporating comfort food details into their weddings with dishes like milk and cookie shooters, donuts, macaroni and cheese bites, or burger sliders. Wedding planners around the country have also seen more brides incorporating food trucks into their wedding reception fare.
Gatsby-esque Details
With Baz Luhrman's The Great Gatsby set to debut in 2013, many brides will be taking their style cues from actress Carey Mulligan's Daisy Buchanan. Drop waists, Art Deco detailing, sleeves, and vintage silhouettes are just a few ways brides will be incorporating this trend into their wedding day ensembles – but the tone has already been set by some celebrities married in 2012, such as Anne Hathaway who tied the knot in a gown inspired by styles of the 1920's and 30's.
Unique Locations
Airport hangars, high school gymnasiums, high end furniture stores, train stations. Unexpected wedding locations rose in popularity last year as many couples got creative with venue to keep budgets low. Now, the idea of having a wedding in the place you first met or where your first date was has become very much in vogue for the 2013 wedding season.
CraftsNFavors.com estimates that 2013 will hold more non-traditional wedding venues for couples looking to make an impression with guests.
About CraftsNFavors.com
Since 1994, CraftsNFavors.com has been one of the largest providers of wedding favor supplies, wedding craft supplies, wedding table linens, and other wedding décor on the West Coast. Now selling worldwide, CraftsNFavors.com offers exceptional pricing, service, and selection for brides looking to stay at the forefront of 2013's wedding trends. To learn more, visit CraftsNFavors.com.