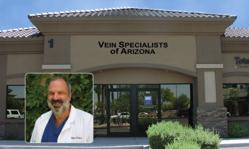 Centers exclusively providing aesthetic vein treatments do not diagnose or treat underlying disease that is certain to progress. Responsible treatment includes accurate diagnosis followed by treatment of the underlying cause.
Phoenix, Arizona (PRWEB) February 04, 2013
Virtually Painless Revolutionary Treatments in the Office Offer New Hope for Venous Disease
On February 14h, 2013, Vein Specialists of Arizona in Phoenix will open their doors and provide treatment options for those suffering from venous disease. Medical and aesthetic treatments for problems ranging from spider veins and varicose veins to chronic venous insufficiency and venous stasis leg ulcers will offer patients access to revolutionary laser ablation procedures that few vein specialists even know about. Such techniques at VSA replace outdated vein stripping and the Subfascial Endoscopic Perforator Surgery or SEPS procedure – both associated with a painful, lengthy convalescence, side effects, complications and higher costs.
VSA will exclusively use techniques that safely and effectively eliminate existing symptoms and pathology with minimal discomfort and recovery, and with virtually no side effects. According to Jeffrey B. Alpern, D.O. Board Certified Cardiovascular Surgeon, Vein Treatment Specialist and Founder/Owner of VSA, "Laser ablation procedures are guided through accurate ultrasound technology in our state-of-the-art procedure room with the patient awake and comfortable. After a short procedure, they walk out of our office with minimal discomfort, and rapidly resume their normal activities. Patients can expect rapid healing and elimination of pain and other symptoms." Dr. Alpern further explains that cosmetic vein centers (mostly operated by non-vein specialists) can provide a great disservice for patients. He says, "Centers exclusively providing aesthetic vein treatments do not diagnose or treat underlying disease that is certain to progress. Responsible treatment includes accurate diagnosis followed by treatment of the underlying cause prior to removal of unsightly spider and varicose veins through aesthetic procedures."
Motivated to Solve a Serious Problem and Prevent Consequences of Untreated Venous Disease
Diseases of the veins if left untreated, can progress from superficial spider veins and varicose veins to disabling chronic venous insufficiency and leg ulcers. With worsening venous stasis and hypertension in the veins, morbidity can include a serious infection called cellulitis and life threatening deep vein thrombosis (DVT).
After seeing patients suffer from years of mismanagement and treatment failures, Double Board Certified Cardiovascular Surgeon and Vein Specialist, Jeffrey B. Alpern, D.O. was motivated to open VSA to assure accurate diagnosis and appropriate vein treatment through the safest, most effective, least invasive, and relatively painless office procedures.
He had this to say, "During my years of teaching and clinical experience, most of the venous patients I treated had suffered for many years with a very poor quality of life. Some had been in and out of wound care centers for leg ulcer treatment. Others with varicose veins had experienced painful, debilitating vein stripping procedures with a long and difficult recovery period. I also saw patients who had recurrent vein problems after receiving aesthetic spider vein and varicose procedures from physicians who were not vein specialists or capable of detecting or treating an underlying venous pathology. All too often, I saw patients who had been incorrectly diagnosed and treated for Peripheral Artery Disease (PAD) when their problem was caused by underlying venous disease."
Joining Dr. Alpern at VSA is Gary Kersten, M.D., Board Certified in Phlebology (treatment of varicose veins and venous disorders). In the practice of medicine for over thirty years, Dr. Kersten has dedicated his practice solely to the treatment of varicose veins and venous insufficiency since 2007.
Treatment at VSA Begins with a free Vein Screening Exam
Those with symptoms of venous disease ranging from spider veins, varicose veins, venous insufficiency, leg ulcers, leg pain, leg swelling, restless legs and difficulty walking and standing can receive a comprehensive vein screening exam for Free at VSA. This complimentary vein screening will include a medical history, physical exam and diagnostic venous ultrasound. Patients will leave their appointment with an exact diagnosis and treatment plan. Most venous disease procedures are paid for by Medicare and private health insurance. The best way to get a free vein screening is to visit VeinSpecialistsofArizona.com and sign up for the VSA eNewsletter. They may also call (623) 428-0068. Patients are encouraged to make their appointments immediately.
###