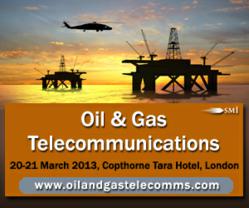 London, UK (PRWEB UK) 1 February 2013
Those in the oil and gas sector work in some of the most dangerous, harsh and remote environments on earth. Far removed from infrastructure, support teams and in extreme temperatures and unpredictable weather conditions. Secure, scalable and, most importantly, reliable communications, are vital for the success of all involved.
Against this backdrop, SMi Group's Oil and Gas Telecommunications conference will focus on upstream, midstream and downstream aspects of oil and gas telecommunications. The conference will go on to cover operational requirements from end to end; plus new sessions this year include case studies on smart field optimisation, network monitoring, maritime and air - sea search and rescue, offshore broadband telecommunications infrastructure, and IT security for offshore developments.
Hear case studies from our industry leading speaker line-up:

Andrew Mabian, Head Of Production Operations, Systems and Business Improvements/SmartFields Project Manager, Shell/Salym Petroleum Development
Beate Kvamstad, Research Scientist, Norwegian Marine Technology Research Institute
David Barker, Senior IT Business Specialist, Marathon Oil
Frank Smiddy, Senior C & I Design Engineer, Bord Gáis Networks
Ian Theophilus, Global I.S. Infrastructure Operations Manager, Tullow Oil plc
Jan Robert Moen, Telecommunications Advisor, StatoilHydro
John Williams, Professor of Information Engineering and Director, Geospatial Data Centre, Massachusetts Institute of Technology
Ketil Moe, Executive Officer, 330 Squadron, Royal Norwegian Air Force
Murray McLaren, Field Telecomms Manager and Operations Manager CNSFTC, BP
Petros Theodorakis, Information & Communications Technology Director, DESFA
Phil Jones, Information Security & Business Continuity, GDF SUEZ E&P UK
Torbjørn Kristiansen, Leading Advisor, Upstream Telecoms, StatoilHydro
For more information aobut this event, visit w http://ww.smi-online.co.uk/2013oilandgas-comms19.asp