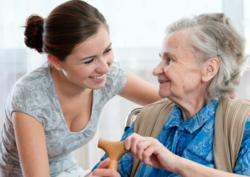 At Liddle Perrett we are able to help clients plan for their future and protect what they own.
(PRWEB UK) 12 February 2013
Navigating the care home fees minefield can be a difficult business, especially at such an emotionally challenging time for many close relatives. With the average annual care home fee in the region of £26,000, and considerably more if nursing care is required, it is currently estimated that around 20,000 pensioners per year are being forced into selling their homes to foot the bill.
Current legislation states anyone with assets of more than £23,250 is required to pay all care costs themselves, with one in ten adults facing a lifetime bill in excess of £100,000. Couple this with the static house prices in the UK, alongside less public funding available for social care as part of current austerity measures, the average proceeds from selling a home now only pay for just five years of care, compared with seven years in 2007. For those in nursing homes, assets are drained yet more quickly – estimated to be around three years, eight months.
Despite various recommendations being made to try to improve the situation, Andrew Dilnot failed to persuade ministers to make an immediate decision, while they supported his proposals 'in principle' any changes to current legislation would not be considered until the next spending review, which may not take place until late 2014, and further to this nothing is expected to be implemented before 2017.
Gavin Perrett of Liddle Perret Legal, says one of the main reasons people contact them is in connection with care home fees, and if there are ways to mitigate them, such as trusts and deeds of severance.
Gavin says, 'there are options for homeowners. For example, when a couple purchase a property the deeds are set up as joint ownership, with both parties owning one hundred percent of the property. A deed of severance splits this so that both parties own fifty percent each. Therefore, in the unfortunate event of one person going into care no claim can be made on the property as you cannot sell fifty percent of a house'.
'As an experienced company dealing with full estate planning, wills, trusts, lasting power of attorney documents and deeds of severance, at Liddle Perrett we are able to help clients plan for their future and protect what they own while being able to make provision for unexpected events such as care home or nursing home requirements,' adds Gavin.
For further information contact Gavin Perrett at Liddle Perrett Legal. Telephone 0845 894 8441 email legal(at)liddleperrett(dot)com or visit http://www.liddleperrettlegal.com