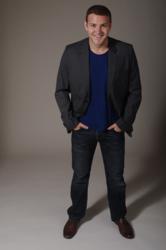 A good SAT score will get a student's college application reviewed. A great SAT score – above a college's 75th percentile - will get a student scholarships.
New York, NY (PRWEB) February 02, 2013
As the price of higher education continues to rise, parents and college-bound students are more actively seeking opportunities to lower their education costs. Students faced with increased competition in the college admissions process are now also faced with tougher competition for merit-based aid.
According to SAT expert Anthony-James Green, low SAT scores aren't just holding students back from getting admitted into colleges – they're also preventing them from receiving thousands of dollars in scholarships.
"A good SAT score will get a student's college application reviewed. A great SAT score – above a college's 75th percentile - will get a student scholarships," says Green.
Green, who has tutored over 330 students on the SAT, believes a high SAT score is a student's ticket to both college admissions and scholarship offers. In fact, Green is offering a new guarantee that his SAT prep program, the 90 Day SAT Prescription, will help students achieve SAT scores high enough to be eligible for scholarship opportunities worth ten times the cost of the program or he'll provide a full refund to any user who tries his program out.
"Many schools offer scholarships to students who reach a certain level of SAT scores. By using my program, students will receive high enough SAT scores to be eligible for those scholarships and to save thousands of dollars on their college education costs. The ROI in my program is massive, and I want to highlight this when parents and students consider my program vs. their other options."
Green notes that many of the merit scholarships available to students require both a high minimum GPA and a high SAT score - one without the other will result in lost scholarship opportunities. However, with both a high GPA and a high SAT score, students will be eligible for merit-based scholarships at all types of colleges. Big name colleges such as Virginia Tech, the University of North Carolina, Rutgers University, and the University of California system all offer merit based scholarships from $2,500/year to the full costs of tuition, fees, and housing. Additionally, out-of-state students may find their costs of tuition lowered or the difference between out-of-state and in-state tuition waived with high SAT scores for schools such as Auburn University, Texas State, and the University of Florida.
"For admissions and scholarships, a student's GPA needs to be high, but then the SAT comes into play. So if students think that a high GPA is enough, they're wrong. A great SAT score will open up vastly more merit-scholarship opportunities for college-bound students."
Green's program, the 90 Day SAT Prescription, is a self-directed online study plan which distills Green's most effective strategies and lesson plans into 90 days of intensive practice. The 90 Day SAT Prescription was made available to the public for the first time January 3, 2013. The program costs $489.80 in total, and can be paid for in multiple installments – far below Green's private tutoring rate of $500 an hour. Interested parents and students can learn more about the program, as well as sign up for free guides, downloads, and more at the following URL:
http://www.teachyourselfthesat.com/howitworks/
Green has been called "the most recommended, most talked about SAT tutor in America," has been featured in hundreds of online and print news sources, and is the author of the new book, Test Prep for Parents. He has trained over 100 elite SAT tutors to use his methods, and his lesson plans are taught to thousands of students around the world.
Parents and students who are planning on taking the March 9th SAT are also encouraged to take a look at Green's new 30 Day SAT Crash Course, an accelerated program which guarantees students a score improvement of over 200 points in less than 20 days, and which launches February 7th. Parents and students can learn more about Anthony's last-minute SAT prep program here:
http://www.teachyourselfthesat.com/30-day-preorder/
Green lives between New York City and Los Angeles, where he splits his time between developing his SAT self-study plans and tutoring his students 1-on-1.