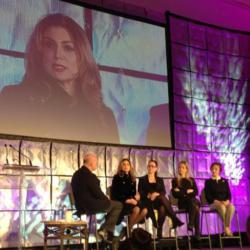 There is a new wave of foreign buyers, who are looking for more of a long-term investment. They want the house, land and the best schools"
New York, NY (PRWEB) February 03, 2013
Real Estate Connect celebrated its 17th year, with conferences at the Grand Hyatt in New York City, January 16-18. The conference focused on the globalization of real estate with emphasis on global trends, international buyers and marketing luxury properties with the latest technology. Each year, thousands of influential real estate leaders gather at Real Estate Connect to network, make deals, explore current trends and technology, and to learn how to embrace and leverage the change that surrounds our industry.
A global audience of the top real estate professionals was in attendance for the Inman News Conference; participants included Maria Babaev, Managing Director of Laffey Fines Homes International Luxury Portfolio Division, along with other industry experts who exchanged perspectives on how to market listings internationally.
Babaev discussed the importance of an online presence, "International buyers are extremely smart- their search patterns are not that much different to domestic buyers. They know about online real estate websites such as Zillow.com, trulia.com and Luxury Portfolio International, which is why it is imperative to make sure that my listings look perfect with beautiful photographs, descriptions and precise information. I have also implemented Immobel on my own personal website, which is a property search tool that is translated into 18 different languages. This is a very important feature that is breaking language barriers for foreign buyers who are searching on my website".
Maria Babaev also commented on the changing patterns of international buyers, "I see there is a new wave of foreign buyers from Russia, China and other parts of the world. It used to be that they were just looking for an investment, maybe an apartment in the city for a once-a-year visit. Buyers would come for some shopping, dining or entertainment; now I see more down-to-earth transactions in the three to seven million dollar range. They want to have a house in the suburbs with land, infrastructure and great school districts. It is more of a long-term investment."
About Maria Babaev : A well-known expert on Long Island's Luxury Real Estate Market and fluent in Russian, Babaev's impressive network of like-minded individuals has allowed her to develop a highly respected pipeline of foreign investors, buyers of luxury residences, estate-style vacation homes and real estate investment purposes. With a current portfolio of $85 Million in luxury listings and closing over $35 Million in 2012, Babaev's widespread knowledge of the subtleties of the North Shore's most prominent villages, towns and enclaves, allows her to consistently deliver invaluable guidance to this exclusive network of clients and customers.
About LuxuryLongIsland.com: The interactive web-based real estate search platform with next generation functionality offers state-of-the-art search capabilities. Search includes local & global properties, area mapping, and recently sold statistics. Users can create free accounts for customized searches, new property listings to market auto-notifications and price change alerts. Additional benefits include local market blogs, targeted Long Island real estate news and an assortment of home owner related tips and resources. At the core of this site are targeted and localized real estate information and a dynamic information platform with current topics and data that matters to the Long Island residential real estate investor.