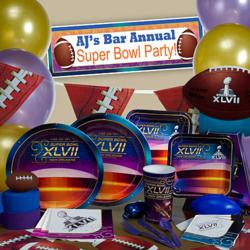 South Whitley, IN (PRWEB) February 01, 2013
It's east coast versus west coast. Harbaugh vs. Harbaugh. AFC vs. NFC. After two weeks of hype, party planners may be tipping their hands as to who they think will win Super Bowl XLVII.
Shindigz, an online party decorations store that sells football party supplies, asked shoppers who would win Sunday night's epic game in New Orleans. Thousands voted with the results showing the San Francisco 49ers will be triumphant over the Baltimore Ravens. And voting wasn't really close. In the poll, 62% voted for the NFC champs and only 38% for the AFC champs.
"It's also interesting to note that San Francisco 49ers themed party supplies sold out faster than Baltimore Ravens party supplies," according to Keith Bansemer, Director of Internet Marketing at Shindigz. "Matching our poll results, it looks like more party planners are anticipating a 49ers victory."
The Shindigz Super Bowl Party Poll will be open through kickoff time and can be found at http://www.shindigz.com/football.
About Shindigz
Since 1926, Shindigz has "made life more fun" for 23 million events through the manufacture and sale of personalized party supplies. It ships products from its facilities in South Whitley, Indiana across the United States and around the world to 59 countries. With more than 36,000 products, it provides customers with a complete party solution. For more information about Shindigz, go to http://www.shindigz.com.