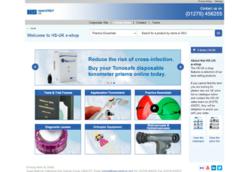 The new e-shop contains HS-UK's best-selling items, so it is now easier for the visitor to locate the product they want to purchase, both quickly and efficiently
(PRWEB UK) 3 February 2013
HS-UK unveiled its new e-shop today (1st February 2013), following weeks of planning and testing. The main aim of the redevelopment of the e-shop was to enhance the overall visitor experience. The URL for the new e-shop is http://eshop.haag-streit-uk.com
The new e-shop contains HS-UK's best-selling items, so it is now easier for the visitor to locate the product they want to purchase, both quickly and efficiently. Although the number of on-line products has been reduced, the site is still a 'one-stop-shop', with a wide range of products available.
The products have been clearly categorised into 6 sections, including Tests & Trial Frames, Applanation Tonometers, Diagnostic Lenses and Retinoscopes & Ophthalmoscopes. There are also special sections dedicated to Orthoptic Equipment and Practice Essentials.
The order process has been vastly simplified, and customers can now add purchases to their basket and order in just a few simple clicks. The site has integrated powerful shopping cart technology that allows customers to order seamlessly online. Customers can pay through PayPal, either by using their existing PayPal account or by debit and credit card.
Delivery charges for the new e-shop have been slashed to encourage shoppers to order online. Standard delivery is now just £4.50, but customers who order over £100 in one transaction can take advantage of free delivery.
Sharon Mills, HS-UK Marketing Manager, commented, "We are excited to offer this new re-developed e-shop to enable HS-UK customers to have the freedom to purchase equipment online, 24-7. It is optimised for mobile use, so customers can expect a great visitor experience, whether they are ordering from their tablet, iPhone, Android or PC."
Sharon continued, "We have listened to our customers and developed the e-shop based on valued customer feedback. We are confident that the new e-shop will better serve our online customers, and fully meet their needs and requirements. Customer satisfaction is paramount and every online order is given the highest priority."
Visitors are encouraged to visit the e-shop regularly to take advantage of regularly updated special offers that appear in rolling banners on the home page. Users are encouraged to bookmark http://eshop.haag-streit-uk.com, so they don't miss out.