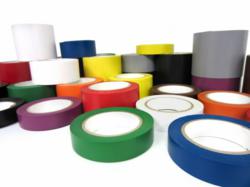 "We have used this tape in all our lean and 5S projects and this is the best and easiest tape to use on floors, walls and workstations."
Lake Oswego, OR (PRWEB) February 13, 2013
Promoting organization and safety in any office or manufacturing plant can be accomplished by identifying areas with vinyl safety tape that is now being offered through Creative Safety Supply. The 6 mil thick vinyl floor marking tape will visually control any workspace by outlining the area in one of the ten solid color selections. All ten colors are available in widths from 1/4" to 6" and come in rolls of 108' long. Not only is the tape ideal for marking floor areas but it is also a great solution for marking table tops or workstations to keep all tools and materials organized which creates a more lean work area.
By using vinyl safety tape for marking aisles and areas within a facility creates a lean facility. Anyone entering the building will be able to identify the flow of work being done within 60 seconds. The proper use of floor marking tape helps to create order and a pattern of work, which eliminates searching and confusion within a work area. Floor marking tape also helps to clearly define processes and cells in the value stream. A lean facility creates a successful business by eliminating wasted time and increasing production and better quality of work ethics and product output.
The variety tape colors offered through Creative Safety Supply adheres to the principle of 5S floor marking color guidelines making it easier for employees to identify the meaning of each color when used on floors, equipment, and other materials. A free floor marking guide is also available through Creative Safety Supply that will help in providing everything about properly marking floors and at the same time be in compliance with OSHA safety standards.
A plant manager commented about Creative Safety Supply's vinyl tape, "We have used this tape in all our lean and 5S projects and this is the best and easiest tape to use on floors, walls and workstations."
For more information about vinyl safety tape, please visit http://www.creativesafetysupply.com/5S-Vinyl-Floor-Tape/ or call toll-free (866)777-1360 to speak with a professional representative.