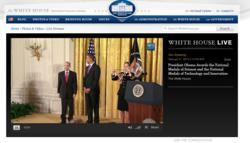 "Dr. Gholam Peyman's inventions have improved the eyesight of countless patients," said David F. Chang, MD., President of the American Society of Cataract and Refractive Surgery
Washington, DC (PRWEB) February 01, 2013
President Barack Obama awarded LASIK eye surgery inventor Gholam Peyman, MD, the National Medal of Technology and Innovation, the highest honor bestowed on an American innovator, during a ceremony at the White House Friday. Dr. Peyman is a long standing member of the American Society of Cataract and Refractive Surgery.
Peyman, a professor of Optical Sciences and Engineering at the University of Arizona College of Medicine –Phoenix, is among 12 researchers to receive the honor.
"When Gholam Peyman first accepted a position at the office of the University of Illinois, his office was a converted restroom," President Obama said. "But he carved out enough space for himself, his secretary, and his lab equipment and today he is known as the father of LASIK eye surgery."
"We are so grateful to all of you," Obama said to the award winners. "The incredible contributions you've made have enhanced our lives in immeasurable ways that are practical but also inspirational. And so we know that you are going to continue to inspire and, in many ways, teach the next generation of inventors and scientists who will discover things that we can't even dream of at this point. Thank you so much for everything that you've done."
"Dr. Peyman is widely acknowledged as a leading innovator in ophthalmology," said David F. Chang, MD., President of the American Society of Cataract and Refractive Surgery. "His creative research and his inventions have improved the eyesight of countless patients, and we are delighted that the President has chosen to honor this very deserving ophthalmologist."
An ophthalmologist and vitreoretinal surgeon, Dr. Peyman has more than 135 patients. Although he is widely known for inventing the LASIK vision correction procedure, Dr. Peyman's inventions cover a broad range of novel medical devices, intro-ocular drug delivery systems, surgical techniques, laser and optical instruments, and new methods for diagnosis and treatment.
"I am so honored by this award," said Dr. Peyman in a prepared statement. "What a wonderful surprise. I am gratified that our work has touched so many people. We work always to enhance treatments and improve the outcomes for patients. We continue to look forward since there are many more problems to solve. "
Dr. Peyman is also credited with developing the first pressure-controlled valve - now known as the Krupin valve for glaucoma surgery - and the first telescopic IOL for patients with macular disease. He was also among the first to implant an artificial silicone retina in patients with retinitis pigmentosa.
Dr. Peyman has been a pioneering force in laser and photodynamic therapy and studies on intraocular drug delivery and refractive and vitreoretinal surgery. He also established the techniques of eye-wall resection and endoresection for intraocular tumors, and was the first to perform a retinochoroidal biopsy and to transplant retinal pigment epithelial cells for age-related macular degeneration.
Dr. Peyman's transformative research has earned him numerous awards, including induction into the American Society of Cataract and Refractive Surgery's Ophthalmology Hall of Fame, and the American Academy of Ophthalmology's Lifetime Achievement Award. Dr. Peyman also serves as an editorial board member for nine distinguished ophthalmology journals.
The American Society of Cataract and Refractive Surgery is an international, educational society with more than 8,500 members. Its mission is to advance the art and science of ophthalmic surgery and the knowledge and skills of ophthalmic surgeons by providing clinical and practice management education and by working with patients, government, and the medical community to promote the delivery and advancement of high-quality eye care. http://www.ASCRS.org.
Founded in 1986, the American Society of Ophthalmic Administrators (ASOA) is the premier organization for the business side of ophthalmology. Serving physicians, administrators, managers, and practice staff, ASOA's mission is to advance the skills and professionalism of ophthalmic practice management. http://www.asoa.org