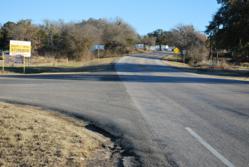 When we have an opportunity to be proactive and spark change in our community, in an obviously dangerous situation, then we have to get involved.
Belton, Texas (PRWEB) February 04, 2013
The dangers associated with the intersection at Sparta Road come on the heels of a serious accident involving the firm's clients, who were injured in a crash on January 2, 2013, according to Carlson Law Firm Partner, Nicholas Pritchett.
While Texas Department of Public Safety statistics reveal a decrease in the number of injury related incidents at the locally infamous Sparta Road & FM 439 intersection just outside of Belton, TX, the accidents occurring are usually very serious in nature, if not fatal.
In May 2012, a Fort Hood soldier, identified as 22-year-old Spc. Travis Shane Penney, was killed in a motorcycle accident at the intersection, according to the report, "Fort Hood Solider Dies In Motorcycle Crash" published by KWTX News on May 26, 2012.
"As a personal injury law firm, we're in the business of helping clients but when it comes down to it, we want the roadways and intersections in our communities to be safe for drivers and passengers," Carlson Law Firm Managing Partner, Craig Carlson said.
Based on the statistical data provided by the Texas Department of Public Transportation, in the last five years the intersection experienced 36 crashes involving as many as 76 vehicles. According to TXDOT, crash reporting includes, "Any crash involving a motor vehicle in transport that occurs or originates on a traffic way, resulting in injury to or death of any person, or damage to the property of any one person to the apparent extent of $1,000."
Discussions with several consulting experts support the idea of more traffic control devices, such as a four-way stop or flashing red lights, to increase the awareness of the risky intersections to approaching motorists.
The current speed limit on FM 439 is 55 MPH: a speed limit some say is too high for the conditions. Many vehicles turning onto Sparta from FM 439 are often slowing and stopping as they turn. In addition, vehicles turning onto Sparta Rd. may be tempted to maneuver around the single lane in an effort to avoid stopping or reducing speeds.
"I travel on 439, passing by the Sparta intersection, every single day on my way to work. The majority of the time, people don't want to wait on 439 behind turning vehicles," Belton resident Russell Almon said. "Reducing the speed limit on FM 439 might be a good way to make that intersection a bit safer by making it easier for drivers to stop and slow as cars in front of them turn off."
The Carlson Law Firm's culture of helping people goes beyond advocating for clients in the courtroom.
"We want to represent our personal injury clients in a way that helps them get back on their feet after enduring any incident," Carlson notes. "But when we have an opportunity to be proactive and spark change in our community, in an obviously dangerous situation, then we have to get involved."
For more information about The Carlson Law Firm and Managing Partner Craig Carlson, visit http://www.carlsonattorneys.com or call 800-359-5690.