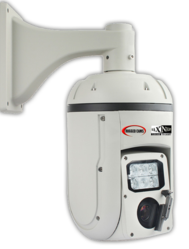 The Night Ranger Infrared PTZ Camera is weatherproof, waterproof and even dust proof...
Kemp, Texas (PRWEB) February 04, 2013
The Night Ranger Infrared PTZ Camera is the latest innovation from Rugged Cams, a manufacturer of tough, ruggedized security cameras for challenging environments.
The Night Ranger Infrared PTZ Camera is the toughest PTZ Camera Rugged Cams has ever produced! The Night Ranger is not just water resistant, it's waterproof. It was tested in a water tank and rated to IP67, which means this camera can take whatever weather Mother Nature throws at it. The built-in Heater and Blower keep all the components warm and keeps ice off of the lens as well. The Night Ranger also has a heavy-duty wiper that keeps the camera lens free from moisture and contaminants, and travels a full 180 degrees. The wiper is easily activated from anywhere in the world via the Internet with a simple Preset command.
The Night Ranger is a complete new Infrared PTZ camera design. That is clearly evident when anyone sese it for the first time. One of the newest features built-in to this revolutionary new PTZ Camera, is a Constant Temperature System with a Heater and Cooling Fans that allow this robust camera to thrive in extremely cold and extremely hot environments. No matter the weather, no matter the temperature, no matter how hard it is snowing or raining, the Night Ranger is up to the task.
One of the best new features for this camera, and indeed for any PTZ Camera, is the redesign of the Infrared Lamp System. First, the lamp quadrant has been moved away from the camera lens, which completely eliminates the light glare that plagues most Infrared PTZ Cameras. The powerful Infrared Lamp Array on the Night Ranger can throw light out to as much as 300' away, and makes this camera a true Day/Night camera with Infrared light beaming out wherever the camera is pointed. This Lamp Array is populated with short and long distance beams and even has a diffused lamp for close-in work. If that wasn't enough, the Lamp power is controlled by the amount of zoom the camera is using. At long zoom distances the lamps are at full power, while the power is dialed back for short distances when the lens is not zoomed in at all.
The SONY ExView HAD CCD Module at the heart of the Night Ranger sports 530 lines of resolution and a 36X Zoom lens and 12X of Digital zoom. Other features include an On-Screen Menu, 4000 volt Lightning protection, Home or Park position, 128 Preset positions, 7 alarm inputs and 2 alarm outputs, a host of Scan, Tour and Patterns that can be programmed, and internal memory that insures that the Night Ranger can resume any planned operation after a power failure.
The Night Ranger was built to work at long distances away from a power source because it operates on 24V AC power. Unlike 12V DC cameras, the Night Ranger can be hundreds of feet away from it's power source, which means that this innovative new PTZ Camera is perfect for any situation or environment, even if it is far from any building or power source.
See the new Night Ranger PTZ Camera at Rugged Cams and read the full list of features. While you're there, look at the incredibly affordable price as well. Economy and Toughness together? You bet.
Founded in 1993, Rugged Cams is a leading manufacturer of tough, ruggedized security cameras and DVR's for Business, Industry and properties of all types.
Rugged Cams is a registered trademark of Rugged CCTV in the United States and/or other countries.