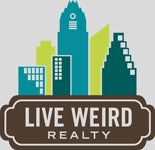 Austin, TX (PRWEB) February 04, 2013
Live Weird Realty, an Austin real estate agency, has partnered with We Had A Moment, a recently launched social networking platform, to host an unofficial party during this year's SXSW Festival in March. The event will take place in the heart of downtown Austin at the HandleBar on East 5th Street. Live music will be provided courtesy of South Korea's well-known group, Galaxy Express, who was named band of the year at the 2011 Korean Music Awards. Free drinks will be available to attendees with an RSVP.
Live Weird Realty and We Had A Moment are seeking additional co-sponsors to host the event. A variety of sponsorship packages are available to suit all price ranges, with a minimum of 50% of the sponsorship funds designated for event promotion, and the remainder will go towards the event itself.
Those interesting in co-sponsoring the event should contact Erik Diehl by phone at 512-476-7368 or email at erik (at) liveweirdrealty (dot) com for more information.
ABOUT WE HAD A MOMENT
Founded in 2011, We Had A Moment (WHAM) is the iPhone app that allows you to connect safely and securely with any person anywhere. Have you ever locked eyes with a stranger that caught your fancy, and then the moment is suddenly past, and no exchange of contact information occurred? With the recently launched free iPhone app from We Had A Moment, you can find that person again and see what potential lies ahead.
We Had A Moment safely and securely allows people to find that special someone they shared a moment with. User identities are protected; the user decides how and when they want to share more information. Registration with We Had A Moment is easy and free; to sign up visit http://www.wehadamoment.com/ or download the app in the app store: https://itunes.apple.com/us/app/wehadamoment/id589796761?mt=8.
ABOUT LIVE WEIRD REALTY
Live Weird Realty specializes in locating apartments, condos and houses in Austin, TX, that are unique, interesting and affordable. From lofts in the downtown area to houses in the eccentric South Austin district, Live Weird Realty is prepared to find a home tailored to fit each individual's personality and income.
Live Weird serves Austin and the surrounding areas of Bastrop, Buda, Cedar Park, Dripping Springs, Fredericksburg, Georgetown, Hutto, Lago Vista, Lakeway, Marble Falls, New Braunfels, Pflugerville, Round Rock, San Marcos and many more.
*This event is neither endorsed by nor affiliated with SXSW.