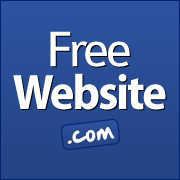 (PRWEB) February 02, 2013
Freewebsite.com specializes in hosting websites for businesses and hobbyists alike. Customers pay nothing to benefit from the service, which lets users select templates and add their own pictures, links and writing. For a small fee, additional benefits like unlimited email addresses can be purchased.
There are many reasons why individuals would want to get a free website. Poets, game designers, photographers and jewelers can share their art with the world, and college students traveling abroad can post pictures and blog posts to keep family and friends updated on their adventures. Businesses can see their clientele drastically increase by having a professional website.
"More and more people are getting interested in finding out how to get a free website," says a FreeWebsite.com representative. "People enjoy creating personal blogs to communicate with others, and businesses are finding that customers are starting to use the internet to decide where to take their money."
To read the article, visit: http://www.freewebsite.com/get-a-free-website/
About FreeWebsite.com: FreeWebsite.com breaks down barriers to website ownership by providing attractive, easy to maintain websites, complete with content, at a low price. To learn more, visit FreeWebsite.com.