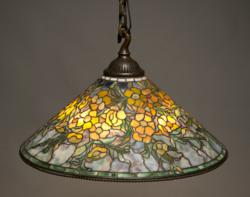 (PRWEB) February 04, 2013
2012 held a number of exciting company advancements and sales results for Michaan's Auctions. Everything from successful charitable work and the addition of new auction events to the historic arrival of the Treasures of Louis C. Tiffany from the Garden Museum collection marked 2012 as an unprecedented and remarkable year.
What was billed as the grandest auction event in the history of Michaan's proved to be just that, making over $4 million in sales – the highest sales to date – in just under three hours. Since August, anticipation for the Treasures of Louis C. Tiffany from the Garden Museum, Japan Auction had been building, as distinguished collectors from around the country came to learn of the November 17 event. The auction was composed of some of the finest works ever created by Tiffany Studios. Allen Michaan was the driving force in bringing the museum collection pieces to the United States, as well as in presenting them to the world market. "It has been an honor to have these masterworks grace our venue. Every step of the process has been an amazing journey, unfolding into the largest grossing auction we have ever conducted. I am also quite proud of the massive auction catalog we produced, which will become an important reference work for years to come."
A defining success for the Asian Department was found in June and December in the Fine Asian Works of Art Auctions. The sales became some of the company's highest grossing auctions with a hammer total of over $2.6 million. Both auctions saw items selling at higher than estimated costs.
A star lot of the year was seen in William H. Dunton's "The Trail Boss," selling for $234,000 in the June Fine Works of Art Auction. Commissioned by the D.M. Ferry Seed Company in 1910, the painting remained un-located for over 100 years.
Specialty collections also remained popular at auction throughout the year. A charitable offering of Greyhound related decorative objects saw a 100% sell-through in a regularly scheduled estate sale. Proceeds benefited Guide Dogs for the Blind with a portion of the funds to be distributed to Greyhound Friends for Life. A collection of period railroad memorabilia was another specialty offering, sold in lots of china, lamps, silver and ephemera that enjoyed a 95% sell-through. The railroad memorabilia consignor reflected on her husband's joy of collecting, remarking that it, "...enriched his life and was a labor of love."
2012 also brought the introduction of two new auction events at Michaan's with sales containing high-end property. A premiere Furniture and Decorative Art Auction combined modern artisan pieces with American and European furnishings to prosperous sales results. Fine and estate jewelry was also combined in an auction for the first time, unfolding into a comprehensive sale of over 400 jewelry lots. As a whole, the Jewelry Department remained a top performer in estate auctions, as many categories saw impressive percentages throughout the year.
Michaan's Annex auction also had an unprecedented year of growth. A new and improved location opened in August, where an approximate 65,000 square-foot auction venue was unveiled boasting a showroom of 3,000 to 4,000 lots. Record setting attendance levels and stellar sales were seen immediately, and that success led to an extra day for the Annex sale. Michaan's Auctions Vice President and Chief Operating Officer Scott Bradley noted, "Annex customers, both buyers and sellers, have determined the growth that the venue has seen. From our end, we aim to meet that demand."
Please join Michaan's Auctions in 2013 for exceptional sales offerings including fine art, jewelry, Asian works of art, furniture, decorative arts, stamps and coins. Future sale information and dates will be announced online at http://www.michaans.com. Michaan's Auctions is located at 2751 Todd Street, Alameda, CA 94501.
About the company: Michaan's Auctions is a leading full service auction house on the West Coast with one of the largest facilities in Northern California. Specializing in the appraisals and sale of antiques and fine art, Michaans has specialists in the fields of Furniture and Decorative Arts, Modern, Contemporary Art, European and American Paintings and Prints, Jewelry, Asian Works of Art and Ethnographic Art.Established in 2002, Michaan's Auctions holds up to thirty sales each year attracting a broad base of buyers and consignors from all over the world. Michaan's offers buyers and sellers the opportunity to preview and bid on many unique and desirable property.