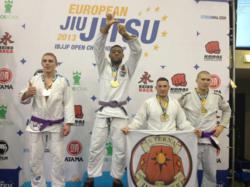 "I had the privilege to fight some of the toughest guys at my level. I was able to see spots I need to work on when I get back to Crazy 88 next week."
- Timothy Spriggs
(PRWEB) February 02, 2013
Timothy-Michael Spriggs won two gold medals on Friday, January 25, at the 2013 European Open Championships held by the International Brazilian Jiu Jitsu Federation (IBJJF).
In the sport of Brazilian Jiu-Jitsu, a submission grappling martial art that is commonly used in Mixed Martial Arts events such as the Ultimate Fighting Championship, there are four major tournaments. These tournaments are considered the elite four and consist of the European Open (Lisbon, Portugal), the Pan American Championships (Irvine, California), the Brazilian Nationals (Rio de Janeiro) and the World Championships (Long Beach, California).
The 22 year-old Spriggs competed in the Heavyweight division where he was to face off against two other world championship medalists. Tim won all three of his matches in extraordinary fashion.
Later that day, Spriggs took over the Open or All-Weights category where the medalists from all weight classes are allowed to compete. All of the top competitors from around the world entered into this division. Spriggs came out victorious once again.
Timothy commented, "I was able to set the tone for this year today. I had the privilege to fight some of the toughest guys at my level. I was able to see spots I need to work on when I get back to Crazy 88 next week."
Spriggs will be competing next at the Pan American Championships in Irvine, California, another prestigious tournament. Timothy-Michael Spriggs trains out of Crazy 88 Brazilian Jiu-Jitsu, a Mixed Martial Arts gym located in Howard County, Maryland. For more information visit the site at http://www.baltimoremixedmartialarts.com.