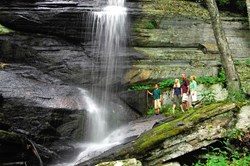 Best Mountain Community of the Year - Headwaters at Banner Elk
Charlotte, North Carolina (PRWEB) February 12, 2013
Real Estate Scorecard, an industry leader of online real estate reviews, announces the 2013 Bliss Award Winner for Best Mountain Community of the Year, Headwaters at Banner Elk in Western North Carolina.
Nicknamed the Rockies of the East, the Blue Ridge Mountains in Western North Carolina are impressive. Ask anyone who's driven the Blue Ridge Parkway from Virginia south to Georgia. The elevations climb as high as 6,000 feet, just south of Asheville. Authentic mountain living includes privacy, park-like amenities and layered mountain views. What makes a best mountain community is when these things are combined with quick access to a quality town for modern conveniences. Headwaters at Banner Elk in the High Country of North Carolina has the winning combination of it all.
Just 20 minutes from Beech and Sugar Mountain, this Banner Elk mountain community is located in an outdoor lover's paradise, both for winter and summer sports. Elevations at Headwaters range from 3,100 feet to 3,900 feet. The community has two spring fed lakes, five community parks, and fantastic waterfalls on property. The clubhouse at the top of the mountain is one of the most beautiful clubhouses we've seen in Western North Carolina. Headwaters is UTV friendly (utility terrain vehicle) and has over 500 acres of off road trails to explore. In addition, Pisgah National Forest and Cherokee National Forest can be accessed directly from Headwaters at Banner Elk.
Many of the 35 property owner scorecards we have on file describe Headwaters like this "My bliss-o-meter increases noticeably with every 10 miles I come closer to Headwaters. By the time I arrive, the stress has been washed away and I'm grinning from ear to ear. Nicest neighbors we've ever met. Our hearts melt and spirits soar when we arrive. The illusion of seclusion is spot on." Headwaters at Banner Elk has one of the highest levels of property owner satisfaction on our list of best master planned communities. If you're searching for mountain property in a gated community in Western North Carolina, you wouldn't want to miss exploring Headwaters at Banner Elk.
To see all of Real Estate Scorecard's 2013 Bliss Award winners, visit
http://realestatescorecard.com/breaking-community-news/best-community-of-the-year-2013-bliss-awards
About Real Estate Scorecard
Real Estate Scorecard writes an unbiased real estate reviews providing in depth information about the best master planned communities in Florida, Georgia, North Carolina, South Carolina and Tennessee, all in an effort to help people discover where to retire. Website address: http://realestatescorecard.com