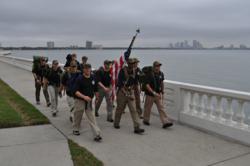 Tampa, FL (PRWEB) February 03, 2013
Sixteen Air Commandos from Hurlburt Field are ruck marching (carrying 40 pound ruck sacks) 450 miles to honor our fallen Special Operations Warriors and to raise money for the Special Operations Warrior Foundation, a top-rated nonprofit organization that supports the families of fallen and wounded special operations personnel.
The march starts this Sunday, Feb. 3rd, at Hurlburt Field (near Fort Walton Beach, Fla) and ends, at MacDill Air Force Base in Tampa, FL, home of the United States Special Operations Command. The route will cover 450 miles and take us along Highway 98, (old 98 and 30A for a short stretch) through the communities of Fort Walton Beach, Destin, Sandestin, Watercolor, Seaside, Alys Beach, Grayton, Panama City Beach, Mexico Beach, Port St Joe, Apalachicola, Eastpoint, Carabelle, Perry, turning onto route 19 towards Cross City, Fanning Springs, Chiefland, Otter Creek, Inglis, Crystal River, Homosassa Springs. The second to last leg takes the marchers on highway 41 passing through Brooksville, Masaryktown, Wilson Heights, Trojantown, and finally into Tampa.
The marchers' progress can be tracked online at http://www.ourmarchtotampa.com
Additionally, and the marchers will make daily call-ins to WYZB radio (which can be heard online at http://www.wyzb.com/common/page.php?pt=Air+Commando+Ruck+March&id=712&is_corp=0
Their goal is $50,000. The Special Operations Warrior Foundation scholarship fund allows children of fallen Special Operations personnel to attend college and honors the memory of those that have paid the ultimate sacrifice for our country.
"The greatest measure of respect that we can bestow upon a fallen hero is to make sure their family is never forgotten," said John T. Carney, Jr., SOWF President. "These marchers are saying loud and clear that we will never forget the sacrifices of our fallen warriors and their families."