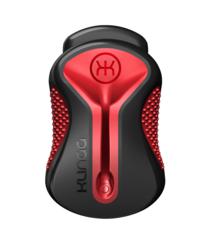 Klingg - Get It On
Miami, Florida (PRWEB) February 05, 2013
Mokao Design today announced the worldwide release of Klingg. An industry first, Klingg is a magnetic earphone cord holder made to keep earphone cables out of your way while exercising, running, or in everyday life. Klingg has been fashionably designed in a variety of color combinations to compliment any outfit.
About the Klingg concept and design
Entrepreneurs Francisco Garcia and Gustavo Leon were shocked to find no advancements had been made in earphone cord management and the concept for Klingg was born soon after. It took many months of trial and error to design a prototype worthy of not only function but also fashion. Shortly after the concept was complete Klingg was invited to join the DaVinci Institute Inventor's showcase and won the award for "best new product of the year" beating out hundreds of competitors.
Klingg as a concept product was then taken to the manufacturing process and is being made in the USA. Klingg is made using two of the most powerful magnets in the world to securely hold itself in place through a variety of apparel from lightweight athletic wear to heavy winter clothing. The goal is to provide a well designed product to all headphone users regardless of being a sporting activity or as a daily convenience.
The front and back pieces of the Klingg offer incredible magnetic strength to prevent slippage. Each Klingg also offers soft side grips for easy placement. The Klingg grove that holds the earphone cable in place fits over 95% of the earphones tested. Klingg also offers a 100% money back guarantee if it is not compatible with your headphones. As an added benefit the earbuds from your earphones will magnetize to the side of the Klingg when not being used in ear. This helps to keep headphones out of your way even when not in use.
About the Klingg company
Klingg is a Miami, Florida based company. Full product specifications and information can be found by visiting http://www.klingg.com. Klingg is an American made product and is available on the Klingg website as well in a variety of domestic and international retailers.
Contact
Ian Whiteman
Office: 954.300.1113
Email: info(at)klingg(dot)com
Website: http://www.klingg.com
###