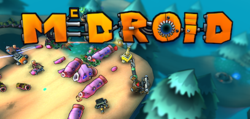 Wilmington, DE (PRWEB) February 05, 2013
4 months ago, IndieGameStand (http://www.indiegamestand.com) was launched, a service that offers a handpicked indie game for incredible "pay what you want" bargains every 96 hours. Today the site is excited to feature McDroid, a promising sci-fi action tower defense game that is currently in Beta.
McDroid is an imaginative and addictive Action-RTS from indie studio Elefantopia that features beautiful cel-shaded graphics. Take direct control of the robot McDROID to protect your Shuttle and your crop. The game is a fusion of head-on-arcade style action and tower defense. The player has the choice of fighting with McDroid or deploying turrets and letting them run on automatic. It's fast-paced, it's full of surprises, it takes brains and it's a bit crazy, it's sci-fi like you have never played in Co-Op or solo campaign missions.
As with all IndieGameStand featured games, McDroid customers get to decide how much to pay for the game. Anyone who pays a dollar or more receives a code to unlock the game on Desura. Pay $10 or more to receive a 3 game bundle that will include McDroid, Vitrum and our next Mystery Game. Developer Elefantopia has selected the Electronic Frontier Foundation to receive 10% of the proceeds from this 96-hour sale.
To learn more about IndieGameStand and get McDroid for whatever you choose to pay, visit http://www.indiegamestand.com.
About Indie Game Stand
Founded in 2012 and launched on September 26th 2012, IndieGameStand.com is a new, low-barrier of entry way for indie developers to promote their games and be included in a dynamic indie gaming bundle. Indie Game Stand hand-selects every game that is offered on our service. Each game gets four days to shine on our homepage in a "pay what you want" sale. Any games purchased from Indie Game Stand will be yours to keep forever and stored in your game wallet on our site. Learn more at http://www.indiegamestand.com.