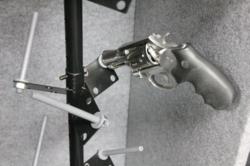 If you have large hunting handguns with top-mounted scopes, or bullseye pistols with fat target grips, consider the Hyskore Modular Rack which holds guns with the barrel on top and level, so there is plenty of clearance for scopes…
Huntington Station, NY (PRWEB) February 13, 2013
As the industry leader in gun storage solutions, HYSKORE® (http://www.hyskore.com) is pleased to introduce the latest addition to the line-up, the 18 Gun Speed Rack. This greatly increases space utilization in gun safes and vaults. Out of the box there are 18 barrel inserts that fit .40 cal and larger, but they can easily be adjusted to fit guns as small as .32 cal. Pistols store butt out and topside up for rapid retrieval.
The rack mounts vertically around a central axis that is secured with flanges top and bottom and pivots 360° on a thrust bearing. The central axel consists of 3 sections of tubular steel that extend up to 55" or can be cut to fit shorter gun safes. There are 6 collars each with 3 gun mounting positions. All steel parts have a durable powder coat finish.
The 18 Gun Speed Rack was designed to provide hand gun organization and storage opportunities in locations that typically would be unused space. The rack stores 18 guns, each one with a maximum weight of 45 oz. which covers everything from a .32 cal Walther PPK or Beretta Model 3032 Tomcat semi-auto up to, and including full size Colt or Springfield Armory model 1911's. The barrel inserts are Delrin plastic (polyoxymethylene) which is flexible, strong and has a low coefficient of friction so that barrels and muzzles will not be scratched or damaged and guns slide on and off easily. In addition, each insert has an integral collar that prevents damage to the muzzle. The speed rack will efficiently organize guns for many years.
The companion to the 18 Gun Speed Rack is the Six Gun Speed Rack. This pistol rack stores 6 guns, each one with a maximum weight of 45 oz. which covers everything from a .32 cal Ruger revolver or a Colt single action army up to, and including full size Colt or Taurus model 1911's. The barrel inserts are the same Delrin plastic (polyoxymethylene) which is flexible, strong and has a low coefficient of friction so that the barrels and muzzles will not be scratched or damaged and guns slide on and off easily. The shelf engagement arms are M-10 steel and the bracket welded steel with a durable powder coat finish. It measures 11.5" wide x 2.5" deep x 4.25" high and allows for magazine storage in the space below it. The shelf engagement arms can fit shelves up to 1.5" thick and are adjustable for shelf depth and rack set back. For law enforcement and security organizations where the custody of pistols is maintained at a central location the speed rack is the perfect handgun rack.
Another recent addition to the HYSKORE® (http://www.hyskore.com) line up is the #30241 - 10 Gun Gun and Gear Rack. This handy little fixture measures 5" x 8.5" x 16.75", and supports up to 30 lbs. on 2 wire grid shelves and up to 10 rifles with scopes in an indexed, closed cell, EVA foam rack. The unit can be mounted to the inside of a gun vault or rifle cabinet to provide additional storage capacity or it can be mounted directly to the wall with the supplied screws, which are set at 16" on center for direct mounting to studs. The 2 shelves and the hooks on each end of the rack provide storage capacity for foam ear plugs, electronic hearing protectors, holsters, safety glasses, ammunition, shooting rest bags, and other shooting related accessories. It also makes the perfect gun organizer for shooting ranges and trap and skeet ranges where rifles and shotguns must be securely racked between shooting sessions. If you have a hunting camp this is the perfect gun organizing system for deer rifles or turkey shotguns. It is just the type of gun rack that you would find in SWAT Team and Navy Seal Team ready rooms. AR-15's, AK47's, Armalite AR-50's, and Accuracy International Advanced Sniper Rifles are at home in this fixture.
The #30184 Mega Stacking Hand Gun Rack has also been added to the lineup within the past 12 months. This rack is constructed from ¾" square tubular steel, and 5 mm vinyl coated wire. This makes it one of the sturdiest hand gun organizing devices available any place. The rack has a capacity of 8 pistols or revolvers and includes a handy shelf that can be used for high capacity magazines, or even for a "mouse gun"; like a Smith & Wesson J frame or a Beretta Model 21. Capacity can be doubled or tripled by using the 4 included couplers to stack one rack on top of the other.
The HYSKORE® #30058 - 7 Gun Vinyl Coated Steel Wire Hand Gun Rack, and its companion item the #30073 - 4 Pistol Rack are inexpensive and flexible revolver and semi-automatic pistol storage solutions. Each rack is constructed from 5 mm diameter welded vinyl covered steel wire, and they are supplied with fittings so they can be assembled side by side and/or stacked to increase density and storage capacity.
The #30078 is a vinyl coated steel modular racking system that can attach to walls, nightstands, closets, etc. but, is especially useful attached to the inside of a gun safe door. As the inside of the door on most gun storage lockers and safes is usually vacant, this puts unused space to work to expand hand gun storage capacity. Pistols can be supported either top side facing up or down. If mounted to a wall it is a perfect one gun pistol rack.
The #30183 Universal Gun Rack is constructed from 1" thick die cut semi-rigid closed cell foam, and has capacity of 11 scoped rifles, and 12 un-scoped. The intention of this product is to provide a long gun indexing and organizing system inside gun vaults. Typically, the racks and organizers supplied with inexpensive gun storage cabinets have limited capacity and do not always take advantage of the available space. As with the #30241 this is a great gun rack and organizer for hunting camps, trap and skeet ranges, and rifle ranges.
The HYSKORE® (http://www.hyskore.com) #30002 Modular Hand Gun Rack is arguably the most successful hand gun, storage, and organizing device available any place on the planet. The rack enjoys utility patent #7,584,861, and is constructed entirely of die cut, closed cell, semi-rigid, EVA foam. Not only does it have a suede-like surface that is friendly to the finish of guns, it is also non-reactive and resistant to lubricants and moisture. Out of the box the rack measures 6" x 7.5" x 8.25", and has capacity for 3 guns. However, since it is completely modular, simply by removing the 3 pins that hold the segments together the rack can easily be reconfigured to precisely fit the gun owner's weapons. This includes semi-automatic pistols with single stack magazines like a Colt 1911, double stack magazines like a Beretta 96, and target pistols with wide target grips like a Walther GSP. In addition, several racks can be ganged together by simply using 3/16" threaded rod with nuts and washers. In this manner the gun owner can achieve maximum gun vault storage capacity that precisely fits his guns. Clark Bush, All About Shooting, says, "There are other guns that I like to store on the shelves of my gun safes and the Modular Pistol Rack works perfect for that…guns are very visible and secure. If you have large hunting handguns with top-mounted scopes, or bullseye pistols with fat target grips, consider the Hyskore Modular Rack which holds guns with the barrel on top and level, so there is plenty of clearance for scopes…Hyskore racks come in sets of three foam bins. Using 3/16" threaded crosspins, you can combine the bins into one, long secure unit running the full width of a shelf." This is the most versatile pistol rack and organizing product on the market.
Sometimes people want to hang the old Winchester Model 70 or Remington Model 700 on the wall or over the fireplace. The HYSKORE® #30029 Brass Gun Hanging Hooks are just the ticket. The hooks are heavy duty die castings with protective foam padding to protect the rifle or shotgun's finish. Each hook has a capacity of over 30 lbs. so that hanging the Savage .308 FTR F class or Armalite AR-50 is not a problem.
A full range of long gun and handgun maintenance and shooting accessories including compression dampened recoil attenuating shooting and tactical / varmint rests is available from HYSKORE® (htt://http://www.hyskore.com). The line up consists of the Rapid Fire® Precision Shooting Rest, the Bench Beast® Coaxial Competition Shooting Rest, the DLX Precision Sighting Rest, the Dangerous Game® Machine Rest, the Dead Eye® Tactical & Varmint Rest, the Parallax Cleaning and Sighting Rest, the Black Gun® Machine Rest, and the Black Gun® Shooting Rest, which is designed for AK-47 and AR15 tactical rifles with high capacity magazines and pistol grips. These are all fully supported on the HYSKORE® website with instruction manuals, target downloads, and both demo and tutorial videos. Most importantly, these advanced shooting accessories are affordable to the average shooter
About HYSKORE®
HYSKORE® is a registered trademark of Power Aisle, Inc. (Est. 1988) of Huntington Station, New York 11746, 631/673-5975. HYSKORE® manufactures a proprietary line of advanced, purpose built, tactical and sport shooting accessories including shooting rests, multi-function electronic hearing protection, pistol rests, pistol racks and sundry accessories. HYSKORE® products are available at numerous retailers including: Cabela's http://www.cabelas.com, BassPro http://www.basspro.com, Sportsman's Guide http://www.sportsmansguide.com, Cheaper Than Dirt, http://www.cheaperthandirt.com, Brownells http://www.brownells.com, and Midway USA http://www.midwayusa.com.
Contact Information
Theodore Werner
Power Aisle, Inc.
(631)673-5975