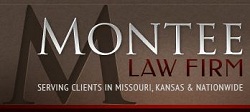 Kansas City, MO (PRWEB) February 05, 2013
As a personal injury lawyer, James Montee is passionate about helping people. His high-quality legal services recently earned the attention of Missouri Lawyers Weekly when he was named "Missouri's Winningest Lawyer" in the magazine's January 28th, 2013 issue. This distinction was given to Attorney Montee based on the high volume of $100,000+ personal injury settlements and verdicts that he recovered for clients in Missouri. The award was presented by Missouri Lawyers Weekly – a publication devoted to reporting legal decisions (court rulings, verdicts, bar-discipline and other news) since 1987.
Attorney Montee graduated from Drury College in 1980 with a Bachelor of Arts degree. After earning his undergraduate degree, he decided to continue his education at the University of Missouri School of Law. There, he obtained a law degree in 1983. His bar admissions include all state courts of record in Missouri; all state courts of record in Kansas; the Eighth Circuit Court to Appeals, the U.S. District Court for the Western District of Missouri; and the United States District Court for the District of Kansas. Attorney Montee is originally from Kansas City, Missouri. Before the Montee Law Firm, we worked as a law clerk for the Honorable Judge William H. Billings in the Missouri Supreme Court.
The Montee Law Firm is Missouri and Kansas who have been injured in any type of avoidable accident. The firm's practice areas include car accidents, catastrophic injuries, wrongful death, defective products, workers' compensation, dog bites, construction accidents, nursing home abuse, premises liability, social security disability, truck accidents, negligence, boating accidents, motorcycle accidents and drunk driving accidents. The firm represents people – not insurance companies – and is committed to providing individuals with high-quality, personalized legal advocacy. Attorney Montee specializes in cases that involve traffic accidents, medical malpractice, workers' compensation or employment discrimination. To learn more about the Montee Law Firm, visit http://www.monteelawfirm.com.