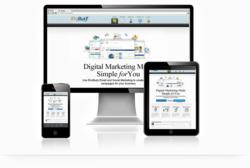 "When we received a request from an existing customer to add CRM capabilities and to make them accessible on mobile devices, we put in the effort to make this a reality. Our customers are our partners."
New York, NY (PRWEB) February 04, 2013
EkoBuzz http://www.ekobuzz.com is proud to announce the addition of CRM capabilities to its online marketing software. Marketing and sales teams can now collaborate on a single solution to capture, manage, and convert leads. The complete EkoBuzz solution has succeeded in helping small- and medium-sized businesses plan and execute marketing campaigns to attract leads, and now gives them the ability to track leads through the complete sales pipeline.
EkoBuzz supports accounts, contacts, activities (meetings, calls, notes, etc.) and opportunities in the CRM solution. Advanced searching and reporting capabilities will enable sales managers to track sales activities and monitor the sales pipeline over various time periods. The solution is supported on all browsers, including mobile phones.
"EkoBuzz has helped us move away from an antiquated in-house system to a cloud-based system that supports both our marketing and sales cycle", says Raj Gupta, principal and founder of ProSoft Technology Group http://www.prosoftgroup.com/ a global business and IT consulting organization, and IBM Premier Business Partner based in Chicago. "EkoBuzz lets us choose the core features that we need for our business. It provides us quick updates to our requests, and superior support and marketing consulting on an on-demand basis. Using EkoBuzz customized to our business has helped us save the money required to adopt a generic CRM system and hiring the consultants necessary to customize the system."
The EkoBuzz solution is not targeted to compete with saleforce.com or other CRM vendors in the space. In fact EkoBuzz offers marketing plugins to customers using salesforce.com and other vendors. The goal of this solution is to provide customers with a single repository to store lead, prospects and customer data with a simple user interface to access every facet of the sales pipeline.
"EkoBuzz develops solutions based on customer needs". Says Alla Nadein, CTO, EkoBuzz "When we received a request from an existing customer to add CRM capabilities and to make them accessible on mobile devices, we put in the effort to make this a reality. Our customers are our partners."
Please contact sales(at)ekobuzz(dot)com to get access and try out EkoBuzz Sales and Marketing Platform.
About EkoBuzz: EkoBuzz is a digital marketing company that provides a cloud based marketing platform. EkoBuzz was formed in 2009 to assist small-l and medium-sized businesses to easily and affordably manage their marketing and sales cycle, by providing them email marketing, lead generation, social marketing and inbound marketing. For more information about EkoBuzz visit http://www.ekobuzz.com or twitter @ekobuzz and facebook at http://www.facebook.com/ekobuzzinc