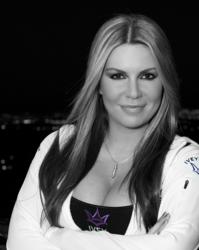 I expect this to be a memorable year, for myself and every other amazing player on our team.
Las Vegas, NV (PRWEB) February 01, 2013
Christina Lindley, professional poker player and femme fatale, is assuming her rightful position among the elite team of top poker players partnered with Team Ivey. With career winnings over $1M, Christina is not a player to be underestimated. She has been known to use her southern sweetness and Maxim-model beauty as the perfect ruse to captivate, and ultimately defeat, her opponents.
Ivey Poker's founder, Phil Ivey, considered by many to be the the best all around poker player in the world, has just signed Christina as one of the top pros for his new company. Upon signing, Christina stated, "I'm excited to start 2013 off with a bang as an Ivey Poker Pro. I expect this to be a memorable year, for myself and every other amazing player on our team."
Now, by signing "the Siren" of poker, Ivey has gained a force to be reckoned with – online and on the live table. Christina's star power and loyal followers are sure to attract mainstream awareness, developing a new generation of poker aficionados through IveyPoker.com
For more info visit IveyPoker.com
About Christina Lindley
Christina Lindley is a world-renowned poker pro and news correspondent with over fourteen years in the entertainment and media industry. Showing career winnings of over $1M, she is one of poker's most recognizable professionals, with a talent for obliterating opponents and taking down massive fields in online tournaments. Christina's winning history includes shipping the World Championship of Online Poker outright for $127,000 and placing second in the FTOPS for $106,000. Christina also moves in mysterious ways on the live table. She finished 15th in the World Poker Tour's Legends of Poker, 12th in Heartland Poker Tour's Las Vegas Main Event, 24th in the NAPT Venetian's 5k Main, and has had multiple cashes in the World Series of Poker, including a deep run in the money of this year's main event.
The Siren of Las Vegas is clearly a force to be reckoned with - from fitness to entertainment, business to poker, Christina appears to have found the secret to maintaining endless success. Her charismatic, yet lethal, approach to conquering all obstacles using both beauty and brains has given her the edge other players yearn for. And she's earned it.
http://www.christinalindley.net
Media Contact:
Gypsywing Media
Lolo Siderman
Phone: 310-696-9155
Email: lsiderman(at)gypsywing(dot)com
Website: http://www.gypsywing.com
IveyPoker.com
E-mail: info(at)iveypoker(dot)com
Website: http://www.iveypoker.com