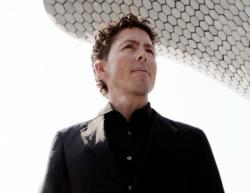 "It is the best school studio I've seen in how it encourages students to stretch their creativity while also addressing the practicality," said architect Fernando Romero about NSAD.
San Diego, Calif. (PRWEB) February 01, 2013
Mexican architect Fernando Romero emphasized the need to design and create spaces that adapt to the context of how people live, work and interact with others when he recently lectured at NewSchool of Architecture and Design. During his Jan. 16 lecture, Romero also commended NSAD for its vibrant studio culture that emphasizes both creative thinking and practical application.
Romero spoke as part of the NSAD Lecture Series, which brings inspiring and innovative designers and architects from around the world to campus to further the school's mission to enhance global design education opportunities for its students and the community. His discussion topic, "You Are the Context," drew a crowd of about 200 people, including NSAD students, faculty, alumni and members of the community from both sides of the U.S.-Mexico border. Romero's firm, FR-EE, has worked on projects throughout Latin America and the United States, including designing the critically acclaimed Museo Soumaya in Mexico City.
Romero recognized the need to design spaces for people of all backgrounds. "There is a responsibility among architects and designers to enhance the lives of people in ways that celebrate the universal appreciation of beauty and aesthetics," he said.
Romero also visited NSAD's design studios and commented during the lecture that he was impressed with the school's design studio culture, in particular the student work he saw that demonstrated creativity and order. "It is the best school studio I've seen in how it encourages students to stretch their creativity while also addressing the practicality," he said.
Romero's lecture topic of "You Are the Context" coincides with the upcoming full release of his book by the same name. The concept of designing according to context is particularly relevant to NSAD because the school is committed to providing students with a strong global design and architecture background as well as opportunities to explore designing in the context of different cultures, traditions and geography. The school also attracts students from around the world, such as alumnus Armando Ramos of Mexico whose NSAD architecture master's degree thesis project focused on social housing in Baja California, Mexico. Ramos went on to work with Romero, and now oversees FR-EE's New York City office.
Romero has received numerous awards and recognitions for his work. He was named to Fast Company's Co.Design "50 Designers Shaping the Future" list for 2012 and was awarded the Five Stars for Best Public Services Development through the International Property Awards—Americas 2012. Other awards include the bronze-level Spark Award in 2012, Red Dot Award: Best of the Best in 2006 and the Young Architects Award in 2009 from the Mexican Society of Architects.
About NewSchool of Architecture and Design
NewSchool of Architecture and Design (NSAD), founded in 1980, is located in San Diego, California. NSAD is accredited by the Accrediting Council for Independent Colleges and Schools (ACICS). ACICS is listed as a nationally recognized accrediting agency by the U.S. Department of Education and the Council for Higher Education Accreditation. NSAD's Bachelor of Architecture, Master of Architecture and Executive Master of Architecture programs are accredited by the National Architectural Accrediting Board (NAAB). NSAD also offers a pre-professional Bachelor of Arts in Architecture, a Bachelor of Science in Digital Media Arts, a Bachelor of Science in Construction Management, a Master of Construction Management and a Master of Science in Architecture. NSAD was ranked among the top 10 undergraduate architecture schools in the western United States, according to the 2012 and 2013 DesignIntelligence reports, "America's Best Architecture & Design Schools." For more information, visit http://www.NewSchoolArch.edu.