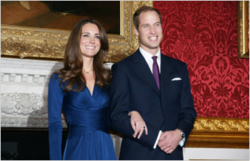 This condition can make a pregnancy very challenging and it is possible that Middleton will require hospitalization again during her pregnancy. - Stanley Friedell, MD
Chicago, IL (PRWEB) February 04, 2013
A twist in Kate Middleton's pregnancy made headlines as the British royal was diagnosed with hyperemesis gravidarum, a severe form of morning sickness. She is feeling better according to reports by ABC News and she has been released from the hospital. Despite this good news, Northwestern Women's Health associates anticipates the condition may cause more trouble for the Duchess of Cambridge throughout her entire pregnancy.
According to an article by the American Pregnancy Association, 70-80% of pregnant women will experience some type of morning sickness. However, it is estimated that approximately 1% of pregnant women will experience hyperemesis gravidarum.
According to Stanley Friedell, MD of Northwestern Women's Health Associates S.C. in Chicago, "Hyperemesis Gravidarum is an extremely serious condition. Those with HG can expect to suffer from extreme nausea and vomiting that does not subside and often leads to dehydration. Weight loss is very common because food cannot be kept down. This condition can make a pregnancy very challenging and it is possible that Middleton will require hospitalization again during her pregnancy."
What is Morning Sickness?
The average woman can expect to experience a variety of symptoms due to healthy morning sickness. While the most common symptoms include nausea and vomiting it is important to note that symptoms associated with morning sickness do not lead to severe dehydration and most pregnant woman with morning sickness are able to successfully keep down some food.
Most women experience a reprieve from morning sickness after the first 12 weeks of pregnancy, although it can at times continue until 20 weeks.
Hyperemesis Gravidarum
Hyperemesis Gravidarum has also been described as acute morning sickness. However, it is drastically different than the morning sickness that the average pregnant woman will experience.
Women with HG could lose up to 20 pounds of their pre-pregnancy weight due to the extreme vomiting and inability to eat. This also makes hydration and nourishment nearly impossible.
As with morning sickness, the first step to manage hyperemesis gravidarum is to adjust your diet to include multiple small meals during each day rather than 3 regular meals. Ginger has been known to naturally help combat morning sickness. Acupressure can also help reduce nausea in some cases.
It is possible that someone suffering with hyperemesis gravidarum will require more serious treatment such as:

IV fluids
Medications including anti-nausea pills
The Kate Middleton Pregnancy
It was announced in early December that Prince William and Kate were expecting their first child together. According to a report by ABC News the couple was not intending to share the news before the pregnancy was 12 weeks along however when Middleton fell ill and became hospitalized for hyperemesis gravidarum the decision was made to announce the pregnancy immediately before the press announced it for them.
The HER (Hyperemesis Education & Research) Foundation has been set up to support and educate women experiencing this condition. The Kate Middleton pregnancy may have introduced hyperemesis gravidarum to the public but there are millions of other women out there who are challenged by the condition.
Hyperemesis gravidarum should not be taken lightly or ignored. If you are in the very early stages of pregnancy and believe you may be suffering from this condition or have questions about what morning sickness is, do not wait another day to schedule an appointment with your OBGYN. Find an obstetrics and gynecology professional that understands this condition and can help you manage it during your pregnancy. If left untreated hyperemesis gravidarum can be dangerous to both mother and baby so the best thing to do is seek out medical treatment immediately.
About Northwestern Women's Health Associates
The obstetrics and gynecology professionals at Northwestern Women's Health Associates are committed to providing you with timely and complete personalized care. Your comfort, convenience and privacy are of the utmost importance. The highly experienced and skilled medical practitioners utilize the latest technologies to provide outstanding women's health care.