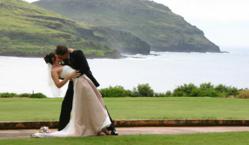 Newport Beach, CA (PRWEB) February 04, 2013
Wedding.com, the growing leader in wedding planning, has announced a new partnership with Apple Vacations, a major national and international tour operator, to provide destination wedding planning to thousands of brides who use Wedding.com.
Founded in 1969, Apple Vacations was one of the first vacation wholesalers in the U.S. and also one of the first to offer all-inclusive vacations to would-be travelers. In Wedding.com's landmark partnership with Apple Vacations, travel packages will be readily accessible on the popular wedding website, making it a one-stop shop for brides-to-be planning their destination weddings.
"Apple Vacations Destination Weddings team is waiting to guide brides from selecting the right resort to helping with menu planning," said Tim Mullen, co-president of Apple Vacations. "Whether it's a large all-inclusive extravaganza in Mexico or an intimate wedding in the Hawaiian Islands, Apple Vacations' professional wedding team can make any bride's dream come true."
Couples planning their wedding on Wedding.com can chose from a variety of featured destinations including locations throughout Mexico, Hawaii, and the Caribbean. The packages provided by Apple Vacations and the resorts featured include everything from the wedding ceremony and reception, local wedding planner, catering services, photography, floral décor, and more. Apple Vacations has a team of experienced destination wedding specialists who work with each couple to help with every decision in selecting, booking, and planning their destination wedding.
"We are excited about our partnership with Apple Vacations to provide Wedding.com brides with an impressive selection of destination wedding packages," says Brett Reynolds, CEO of Wedding.com. "Their ability to offer desirable and affordable destination weddings is sure to be a success with our brides."
For more information about destination weddings offered by Wedding.com through Apple Vacations, please visit http://www.wedding.com/destinationweddings.
About Wedding.com
Wedding.com is an innovative new website that connects engaged couples planning their wedding with wedding vendors looking to grow their business. Wedding.com contacts vendors for couples, giving them the power to compare and negotiate while ultimately saving time and money. With 12,000 couples and 22,000 vendors currently using the website, over 100,000 proposals have already been sent since their inception. Vendors range in services from wedding planners, photographers, florists, and DJs to custom invitations, party favors, and much more. For additional information about the company and its services, please visit http://www.wedding.com.