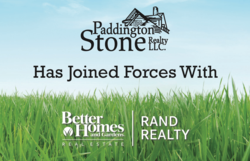 White Plains, N.Y. (PRWEB) February 06, 2013
Better Homes and Gardens Rand Realty, a New York-based, family-owned and operated real estate brokerage, announced its merger with Paddington Stone Realty of White Plains, NY today. Rand, who currently operates over two dozen real estate offices throughout the Greater Hudson Valley, Westchester and northern New Jersey, already maintains an office in White Plains with more than 65 agents.
"Paddington Stone has built a great reputation in Westchester, with a particular expertise in developing new agents and innovative approaches to the rental business. We are very excited to welcome this talented group of agents to our White Plains office," said Matt Rand, managing partner, Better Homes and Gardens Rand Realty. "We have always known them to offer a top notch customer experience; it's a quality that we pride ourselves on here at Rand. It's a perfect fit."
Michelle Coletti and Adam Kessner, co-owners of Paddington Stone Realty, will join the Rand organization with their agents and continue working with buyers and sellers in the Westchester County area.
"Joining Better Homes and Gardens Real Estate Rand Realty was an easy decision for us," said Coletti. "Our core organizational values are very much in line with Rand and we know the family to be fair and honest leaders in our industry. We are extremely excited about the energy and innovative collaboration that synergy will no doubt generate."
BHG Rand Realty plans to combine the resources and personnel of both offices to help further expand its already significant real estate offerings throughout White Plains and the surrounding areas. With the addition of Paddington Stone Realty, Rand's growing company will exceed 850 agents.
For more information on Better Homes and Gardens Rand Realty, visit http://www.RandRealty.com
ABOUT BETTER HOMES AND GARDENS RAND REALTY
Better Homes and Gardens Rand Realty, founded in 1984, is the No. 1 real estate brokerage in the Greater Hudson Valley with over 25 offices serving Westchester, Rockland, Orange, Putnam and Dutchess counties in New York and Bergen and Passaic counties in New Jersey. Rand has more than 850 residential real estate sales associates, as well as a commercial real estate company (Rand Commercial Services), and the Hudson United Group providing residential mortgage lending, title services, and commercial and residential insurance. The companies can be found on the Internet at: http://www.randrealty.com, http://www.randcommercial.com, and http://www.hudsonunited.com. Rand Realty is also on Facebook and Twitter.