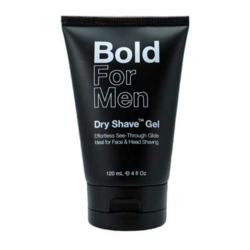 We are excited to offer a product that does what no one thought could be done by offering a dry shave with no irritation.
Anaheim, Calif. (PRWEB) February 05, 2013
Online retail leader hosting over 4,000 products under 100 brand names, DrSkinSpa.com, adds Bold For Men, an innovative 3-in-1 dry shave regimen, to its vast selection of skincare products. Known for researching and carrying products with scientifically proven, natural ingredients, DrSkinSpa.com now carries the latest in shaving for men.
Bold For Men Dry Shave™ gel is the first to replace the messy wet shave with an effortless, comfortable dry shave. This innovative formulation turns the three messy stages of pre-shave, shave, and after-shave into one clean, easy step. This transparent gel enables the user to see the pass of the razor, reducing the number of strokes in the same area and decreasing overall shave time.
Bold For Men eliminates irritation and razor burn by incorporating botanical and natural ingredients into the formulation including eucalyptus, ginger root, oat kernel oil, tea tree oil, and clove leaf oil, to soothe and moisturize sensitive skin. Perfect for use with a traditional razor, an electric razor designed for gels can also be used. Along with faces, Bold For Men is perfect for shaving heads, making bald a sting-free experience.
Simplifying the shaving process, the Bold For Men three steps are easy to follow:
1. Pre-Shave: Apply a thin layer of the gel and wait thirty seconds. This stage will get the pores ready for a smooth, irritant-free shave.
2. Shave: Experience a visible, luxurious shave.
3. After-Shave: Reapply the gel in a thin layer for a soothing finish.
Bold For Men is committed to providing natural ingredients free of alcohol, parabens, and synthetic fragrances. Cruelty-free, Bold For Men does not contain or use ingredients or formulas tested on animals.
Keeping star-studded company, Bold For Men Dry Shave™ was included in the elite Muhammad Ali Celebrity Fight Night XVIII celebrity gift bags for this famous charity event. Bold For Men has been featured in the Dallas Business Journal, Dermatology Times, and many other reputable publications.
"We are excited to offer a product that does what no one thought could be done by offering a dry shave with no irritation. We have interviewed customers who have used it for over two years and said they would never go back to a wet shave. Many have stated it is the first time they are without redness or irritation. We know by our research that Bold For Men uses only quality, effective ingredients so it fits in well with our skincare philosophy," stated Raichel Goodyear, esthetician at DrSkinSpa.com.
To order Bold For Men, visit http://www.drskinspa.com or call toll free at (877) 777-1940.
Doctor owned and operated and founded in 2006, DrSkinSpa.com is accredited with the Better Business Bureau, offers free shipping, a 14 day money back guarantee, and a 15% discount on purchases of $45.00 or more. DrSkinSpa.com offers free online or phone consultation with certified estheticians. For more information on DrSkinSpa.com or Bold For Men, please contact Raichel Goodyear at estheticians (at) drskinspa (dot) com or call (877) 777-1940.