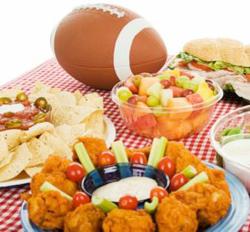 Whether you're home frying up chicken wing appetizers, at a crowded pub or at the Superdome in New Orleans, safety should be everyone's goal...
Neptune, NJ (PRWEB) February 02, 2013
One of the biggest party weekends of the year is Superbowl Sunday, a day when football fans across the country get together for food, fun, and to cheer on their favorite team. On February 3, 2013, the Baltimore Ravens will face off against the San Francisco 49ers for Superbowl 47 in New Orleans. This is a truly unique match-up because for the first time in NFL Superbowl history as the head coaches of the opposing teams are two brothers.
In the decades since it was first televised, the Superbowl has become one of the most watched television events in the world. For many individuals Superbowl Sunday is basically a holiday, celebrated in the home or at a sports bar, enjoying a festive party atmosphere. With so many people gathered together in a celebration focused on food, drink, and competitive sports, some unexpected challenges in the form of safety hazards may arise. Football fans should maintain a heightened level of awareness for safety during Superbowl Sunday.
"Many people love the NFL and the excitement of the Superbowl. However, whether you're home frying up chicken wing appetizers, at a crowded pub or at the Superdome in New Orleans, safety should be everyone's goal", said Donald Colarusso, President of All Hands Fire Equipment and a 25 year veteran firefighter.
Safety tips to keep Superbowl Sunday fun and safe.

It is important to identify a designated driver if traveling out to a sports bar, or any location where there is a need to travel after the game. Remaining responsible and safe means not drinking and driving.
At parties or events with large crowds, it is crucial to pay attention to the surroundings. Knowing where the emergency exits are and avoiding drunk and unruly people is key.
When cooking, frying or barbequing, caution should be exercised around open flame, or when grease, oil and related cooking products are in use. Oversize team NLF jerseys or cooking aprons can be a hazardous when worn around flames. Fire extinguishers should be readily accessible in case of an emergency.
Smoke detectors and CO Detectors should be in working order so that if the burgers, hot dogs or chicken wings burn, the smoke will detector sound. In the event of a fire emergency smoke should be cleared by ventilation, batteries should not be removed from smoke detectors!
The journey for an NFL team to get to the Superbowl is tough, long and grueling. But like most championship games, there is sure to be lots of excitement and action. Keeping parties safe and being aware of fire hazards will help ensure a good time for all.