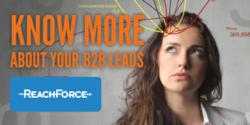 The Conversion Scientist's critique will help B2B marketers understand their prospects' point of views better, to make critical changes to convert more leads.
Austin, TX (PRWEB) February 03, 2013
ReachForce, the Business Marketing Data Leader, presents Brian Massey, The Conversion Scientist, in a free B2B landing page webinar on February 7, 2013.
Massey will draw from over a decade of research and hundreds of clients to demonstrate how straightforward it is to build landing pages that convert more page visitors into converted leads -- and how to improve existing B2B landing pages with some thoughtful adjustments.
"Conversion is the science of turning Web traffic into leads and sales. It is the art of engaging a visitor and helping them solve their problems," Massey said. "When you get conversion right, all of your marketing programs become less expensive. I hope you'll join with me in making the Web a great place for surfers and a profitable place for your business."
He will then take his research into the field - and point out the good and the bad of webinar attendees' landing pages -- live. Registrants simply submit a page they would like reviewed when registering for the event.
"Brian has done this at conferences around the country, so rest assured that he won't be unkind or unfair." said Mary Firme, Chief Lead Accelerator for ReachForce. "Brian presents research-driven findings that will provide immediate, actionable insights. For private clients, Brian charges $7500 to review sites, so ReachForce is pleased to be able to present an opportunity at this webinar for B2B marketers to receive Brian's review for free."
The webinar is designed for attendees to leave with a very good understanding of:

What are the key components of any good landing page?
What makes landing pages seem so hard?
Which advice should I take from my designer?
When should we stop designing and just launch the page?
The Details
When: Thursday, February 7, 2013 add to calendar
Time: 2pm EST, 1pm CST, 11pm PST
Length: 1 fast hour
About ReachForce
ReachForce delivers cloud-based software and lead data services specifically designed for B2B marketers to accelerate conversions from their inbound, outbound, and database marketing initiatives. ReachForce fuels lead generation for over 400 leading companies such as Box.net, Citrix Online, Eloqua, GXS, Marketo, TripAdvisor, and Trend Micro. Businesses use ReachForce to optimize their nurturing, scoring, targeting, segmentation and marketing automation initiatives, thereby accelerating revenue. For more information on ReachForce and conversion acceleration best practices, visit our site at http://www.reachforce.com or follow us on Twitter @reachforce.