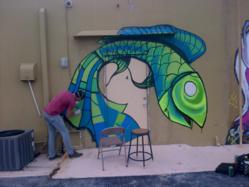 We do recover!
Boynton Beach, Florida (PRWEB) February 01, 2013
In an ongoing effort to bring together art and recovery as well as freedom of expression and creativity, Into Action Treatment hosted David Lavernia today for the continuation of the graffiti work on the back wall of the center. He also is planning on painting one of the transportation vans for Into Action in a cool zebra pattern.
David is a true artist in all meanings of the word and is sharing his talent with the recovering addicts at Into Action. Andrey Rossin, CEO at Into Action, says he invited David to come to the center to inspire the clients to access their inner artist and show the world what they can contribute in sobriety. "Just because someone is not in touch with their inner artist, does not mean they are lacking of true internal beauty. It just means they haven't found it yet. We help people get in touch with their inner beauty no matter how hidden it is."
David Lavernia drew a futuristic and inspiring fish in green and blue on the back of the treatment center. It is worth mentioning that the clients spend their break time out back and will be continually inspired by the growing collection of graffiti art. Into Action now has multiple drawings by different South Florida artists, helping their clients remember that beauty is all around them.
Into Action drug rehab is a holistic drug rehab center where art therapy and psychodrama are being taught by licensed professionals with addiction training and licenses. The clients at Into Action Treatment work very closely with the artistic community and are involved in their clients' extracurricular activities on a weekly basis whether it is through an art gallery expo show or a musical performance. They are based on the motto of their founder that recovery must be fun in order to be successful.