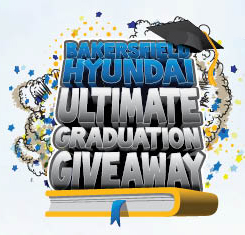 Bakersfield Hyundai is proud to announce our 2nd annual Ultimate Graduation Giveaway. We were thrilled with the turnout and enthusiasm last year, and we look forward to celebrating this year's outstanding senior class
Bakersfield, CA (PRWEB) February 03, 2013
For the remainder of the school year, Bakersfield Hyundai is inviting students in the Kern High School District to compete for the chance to win a brand new car!
The competition is now in full swing and submissions are already being received! Students are jumping at the chance to drive off to college in a brand new ride.
Anyone can compete by uploading a short video to the competition website, nominating one graduating senior. Seniors can nominate themselves if they wish. In this video, contestants must declare the person nominated, the high school he or she attends, and stay within the three-minute time limit. Other than these general guidelines, the reigns are in their hands and the more creative the better!
Last year, 18 year old high school senior Garret Lawrence's video received thousands of votes, and due to his creativity and dedicated voters, come graduation he drove off in a brand new Hyundai Veloster, free and clear.
"Bakersfield Hyundai is proud to announce our 2nd annual Ultimate Graduation Giveaway. We were thrilled with the turnout and enthusiasm last year, and we look forward to celebrating this year's outstanding senior class," says Patrick Beck, General Manager.
To nominate a graduating senior, visit http://www.BakersfieldHyundaiGraduationGiveaway.com. Uploading began November 1st and ends May 31st. Community members, parents, staff, and students are encouraged to visit the competition website during this time and vote on their favorite videos. On June 5th, the winning senior will be announced and awarded his or her brand new car!
The winning student will be receiving the sleek and innovative 2013 Hyundai Veloster. With its unique and modern three-door design, voice text-messaging, and xbox compatibility, this car is sure to be a hit among these technologically-savvy young adults.
Ultimately, through this event Bakersfield Hyundai hopes to create a positive atmosphere within the community, highlighting the achievements and individuality of our outstanding seniors.
Bakersfield Hyundai
5300 Wible Rd.
Bakersfield, CA 93313
877-314-7511
http://www.BakersfieldHyundai.com