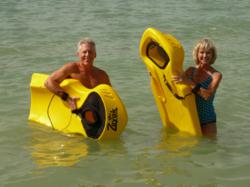 " The Zayak is so comfortable and it allows me to see everything without putting my face in the water". Susan M. of Sarasota
Sarasota, Florida USA (PRWEB) February 06, 2013
The durable Zayak™ Sea Sled provides the same excellent underwater view as snorkeling but without the leaky mask and 'death-grip' on a mouth piece. Swimmers can spend hours observing the underwater environment without even getting their face or hair wet! See all the wonderful photos at http://www.zayakseasled.com
Study marine life, look for sea shells, lobsters, scallops, oysters and more. Fresh water or salt water; rivers, lakes, gulfs, bays, oceans or tidal pools; any clear water venue is a great place for the Zayak™ Sea Sled. Swimmers can even wear prescription glasses or contacts, if preferred.
Whether witnessing the undersea environment visually, or using an under water camera to record the 'Features and Creatures' below, rafters will quickly "see what you've been missing". Each Zayak Sea Sled comes with a secure cargo net that can hold an underwater camera, sunscreen and/or bottle of water, making it perfect for extended time on the water.
The designer of the Zayak Sea Sled has been an Industrial Designer and Engineer with his own plastics manufacturing facility for nearly thirty years. "The Zayak™ Sea Sled was developed for our children and grandchildren when they come to visit Siesta Key Beach in beautiful, sunny Sarasota, Florida, and we are proud to say it is Made in the U.S.A", said Tom Mulvihill, CEO of Tropical Paradise Plastics. "The Zayak Sea Sled is considerably less expensive than other water sports boards, kayaks, canoes or SUP's, making it affordable for most budgets," he said. "The product is especially popular with boaters. One or two can easily be stowed aboard for times when anchored in a favorite bay or harbor."
Word of the Zayak™ Sea Sled has spread to the rest of the Gulf Coast states, the Caribbean, Central and South America, with great interest being generated in Australia, Hawaii and the Mediterranean. Caribbean resort packages are available through our Caribbean distributor.
Many people who aren't comfortable with scuba diving or snorkeling find that they are much more comfortable on a stable, molded platform that allows them a wide-angle panoramic view of the underwater environment without the use of any snorkeling equipment. Even experienced snorkelers soon find the added features of the Zayak help them enjoy more time being on the water. Use of the Zayak Sea Sled can help reduce injuries and fatalities by greatly increasing the visibility of snorkelers to boaters and PWC operators.
The Sea Sled has a neoprene Sunscreen surface with a face-shaped opening directly above the clear window. The neoprene Sunscreen is very comfortable during use and it blocks out all ambient light and reflections from the sun allowing your eyes to adjust to the light reflected off the details of the underwater environment. The neoprene Sunscreen is highly ventilated, allowing for easy breathing without the need for a death-grip on a mouth piece.
Tom Mulvihill of Tropical Paradise Plastics, Sarasota, FL can be reached at info(at)zayakseasled(dot)com