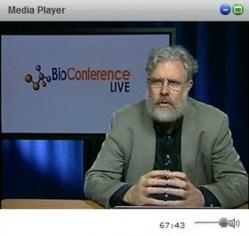 We are proud that these key sponsors have continued their support of BioConference Live
Yorba Linda, Calif. (PRWEB) February 05, 2013
BioConference Live is a premiere producer of online conferences aimed at covering a variety of science verticals, including Clinical Diagnostics, Genetics & Genomics, Cancer Research & Discovery, and Laboratory Animal Science. Each annual conference is entirely online for easy attendance and free for participants.
BioConference Live announces that Roche Diagnostics, Siemens, Beckman Coulter, Diasorin, Cardinal Health, Ortho Clinical Diagnostics, Thermo Fisher, Life Technologies, and several others will be sponsors in the upcoming BioConference Live Clinical Diagnostics May 29-31, 2013. This will be the fourth year in a row for these sponsors to support BioConference Live. The conference creates an opportunity for companies and associations to exhibit new products and findings in the virtual Exhibit Hall. Participants can visit and live chat with individuals in virtual booths, watch videos provided by the companies and associations involved, and download white papers and other documents of interest.
"We are proud that these key sponsors have continued their support of BioConference Live," says Jennifer Ellis, Marketing Manager. "BioConference Live provides a valuable interface for global learning and interaction and our sponsors are a huge part of that."
BioConference Live Clinical Diagnostics provides invaluable educational and networking opportunities for participants. Attendees can also receive free continuing education and continuing medical education credits for all conferences. Clinicians, doctors, medical experts, lab directors and professionals from around the world will come together to learn about recent advances in clinical diagnostics and medicine. Topics for the conference are Personalized Healthcare, Pathology, Oncology, Infectious Disease, Laboratory Testing, Cardiology, Diabetes, Point of Care, Molecular Diagnostics, Hematology, Automation, Nutrition, Vitamin D, Allergy, Clinical Research, Mass Spectrometry, and much more. Speakers include:

Dietmar Hein, PhD, Head, Director, Global eCommerce & CPR, Siemens Healthcare Diagnostics, Board Member, Global Healthcare Exchange
Alan H Wu, PhD, Chief of the clinical chemistry and toxicology laboratories, Professor of Clinical Chemistry, UCSF School of Medicine
Michael Christman, PhD, President and Chief Executive Officer, Coriell Institute for Medical Research
Gyorgy Abel, MD, PhD, Medical Director, Clinical Chemistry and Molecular Diagnostics/Clinical Immunology, Department of Laboratory Medicine, Lahey Clinic, Clinical Instructor in Pathology at Harvard Medical School
Lorin M Bachmann, PhD, DABCC, Assistant Professor, Department of Pathology, Co-Director of Clinical Chemistry, Director of Chemistry Clinical Trials, Virginia Commonwealth University
Nir Barzilai, MD, Director, Institute for Aging Research, Ingeborg and Ira Leon Rennert Chair in Aging Research, Professor, Department of Medicine (Endocrinology), Professor, Department of Genetics, Albert Einstein College of Medicine
Paul Billings, MD, PhD, Chief Medical Officer, Life Technologies
William Clarke, PhD, MBA, DABCC, Associate Professor of Pathology, Director, Clinical Toxicology, Director, Point-of-Care Testing, Johns Hopkins Medical Institutions
And several others. A complete list of speakers is available at http://www.bioconferencelive.com/speakers
To register for a BioConference Live conference visit: http://www.bioconferencelive.com
About:
Founded in 2009, BioConference Live's vision was to connect the scientific world leveraging a unique virtual platform, discovering meaningful collaborations across geographic boundaries and fields of expertise. BioConference Live has grown into the world's largest producer of virtual events within the Life Sciences and Clinical Diagnostics community. LabRoots is the owner and producer of BioConference Live, and is the leading professional networking website designed to connect all science verticals.
Contact Info:
LabRoots, Inc. Producer of BioConference Live
18340 Yorba Linda Blvd.
Suite 107 PMB 427
Yorba Linda, CA 92886
Phone: 1-714-463-4673
info (at) labroots (dot) com