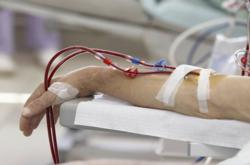 We've received numerous calls from family members who lost a loved one to a heart attack during their dialysis treatment.
(PRWEB) February 03, 2013
The product liability attorneys Mehr Law Group announced a new campaign today to help consumers injured as a result of their dialysis treatment. Consumers who have believe they have been injured as a result of their dialysis treatment are encouraged to call the Mehr Law Group to obtain a free consultation and information on how they can help.
Across America, 400,000 Americans receive dialysis treatment per year in a variety of care centers. 1/3 of these patients receive dialysis treatment using Fresenius Medical Care's dialysis concentrates, GranuFlo® and NaturaLyte®. During dialysis treatment, these acid concentrates were commonly mixed with bicarbonates to lower the amount of acid build up in the blood to prevent kidney failure. Because these acid concentrates already had elevated bicarbonate levels, patients were at risk for alkalosis, which could cause severe injuries such as heart attacks.
In 2010, doctors in Fresenius' Medical Centers observed over 900 patients' heart attacks during dialysis treatment. These injuries were disclosed in an internal health communication (disclosed in this NY Times article here: http://www.nytimes.com/2012/06/15/health/fda-investigates-fresenius-for-failure-to-warn-of-risk.html?_r=0) Company- wide, doctors received new dosage instructions to alleviate the concern for heart attacks, but this memo and updated health care information was not distributed outside of the network.
The U.S. Food and Drug Administration (FDA) recalled both GranuFlo® and NaturaLyte® in March, 2012 amid concerns for the high potential for dialysis injury, namely heart attacks during or after dialysis treatment. In this Class 1 recall, the FDA required Fresenius Medical Care to urgently issue a product communication warning doctors outside of their network of updated dosage recommendations. (Recall available here: http://www.fda.gov/MedicalDevices/Safety/ListofRecalls/ucm309990.htm)
Said attorney Steve Mehr," We've received numerous calls from family members who lost a loved one to a heart attack during their dialysis treatment. We'd like to listen and learn more about patients' alleged dialysis injuries. And we'd like to offer our help to compensate these families for these shocking alleged dialysis injuries."
Consumers who suspect they or a loved one has suffered injury as the result of their dialysis treatment are encouraged to call the Mehr Law Group today to gain the help they need. (800) 908-8124
About Mehr Law Group:
Mehr Law Group is a premiere product liability and personal injury law firm. Operating in Irvine, California, the Mehr Law Group has recovered hundreds of millions of dollars on behalf of injured clients. Their decades of experience and compassion towards clients make the Mehr Law Group stand apart from the rest. Consumers who have suffered injury are encouraged to call (800) 908-8124 today for a free case evaluation. http://mehrlawgroup.com/dangerous-drugs/granuflor-and-naturalyter