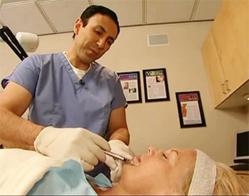 We are consistently seeing potential uses for Botox beyond aesthetic purposes. The versatility of the drug is remarkable.
Los Angeles, California (PRWEB) February 02, 2013
According to one doctor, patients with tense frown muscles are more likely to be depressed and treating these muscles with Botox injections erases the tension and improves the mood. New studies are now underway to provide the evidence required to scientifically sustain this anecdotal claim. (go to goo.gl/mc1vU).
"I look forward to reviewing the data," says Dr. Ourian, Epione's Medical Director. "Botox has been used to treat wrinkles successfully and safely for 20 years and more recently received FDA approval to treat migraine headaches and excessive sweating. The results of these studies on using Botox injections to alleviate the symptoms of depression are very intriguing."
Physicians are advised to wait until more research is completed before offering this treatment to their patients. Nor should patients consider Botox the first remedy for treating their depression, but it may become part of a treatment regimen including other medications and traditional talk therapy. Currently the use of Botox to treat depression is not reimbursed or covered by health insurance carriers.
Dr. Ourian believes there may be merit to these studies. "Recently, we have seen Botox expand far beyond a simple aesthetic treatment. When coupled with the power of perception, Botox may make a major difference."
Dr. Ourian has been a pioneer in laser technology and non-invasive aesthetic procedures including Restylane, Botox, Juvéderm, Radiesse and Sculptra. These treatments are used for the correction or reversal of a variety of conditions such as acne, acne scars, skin discoloration, wrinkles, stretch marks, varicose veins, cellulite, and others. More information about using Botox to treat depression can be found on their website.