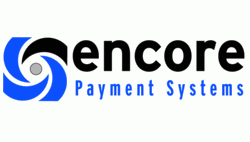 Just like the technology itself, Encore is always evolving and developing new cutting edge products to help small business owners stay ahead of the technology curve
Addison, Texas (PRWEB) February 04, 2013
In today's fast-paced world where technology is a key component of "the everyday experience" business owners everywhere are constantly challenged to offer more versatile and cutting edge payment solutions for their customers. For the average consumer, leaving the house with smart phone in hand is just as much part of the routine as coffee and car keys. So what do consumer smart phones have to do with business payment solutions?
With the launch of programs like MasterCard Pay pass, Visa Pay Wave and a number of other emerging RFID (Radio Frequency Identification) based programs we now have the ability to simply wave a credit or debit card in front of an enabled terminal to complete a wireless and contactless retail payment. This works by simply implanting a wireless chip (only readable from about 2 cm) into the card itself. With the simplicity and speed that comes from this technology, it was only a matter of time before Smart Phones entered the equation. And who better to bring that movement to consumers worldwide than Google with their brand new wallet application and platform.
With Google Wallet, consumers can now combine their phone with their wallet and gain the ability to store payment cards, reward offers and more right on their smart phone. So with all of this technology seemingly making new advances daily, how does that family-owned bar and grill compete against the entourage of neighboring franchise competitors? Now there's one easy answer, Encore Payment Systems. (http://www.facebook.com/EncorePS)
Just like the technology itself, Encore is always evolving and developing new cutting edge products to help small business owners stay ahead of the technology curve and offer their customers and potential customers the latest and greatest in convenient and secure payment options. Partnered with VivoTech, Encore offers a complete lineup of terminal configurations which will allow for payment by both "Smart Cards" using imbedded chips and programs like Google Wallet which broadcast right from a smart phone. This technology can often be integrated into the merchant's existing terminal by adding a peripheral device. If you just think for a moment about trying to swipe a cell phone through a traditional card reader, you'll realize pretty quickly the importance of accepting these forms of payment with the tap-and-go technology. Not to mention the convenience for your customers and the speed at which you could move through those lunch time backups at the register if nothing ever has to change hands.
About Encore Payment Systems
Encore Payment Systems was established for the purpose of providing electronic payment processing solutions and other value-added services to small and medium-sized merchants throughout the United States. Encore is a leader in the electronic payment processing field providing credit card, debit card, ATM card, gift card, prepaid card, EBT and check processing services. Encore maintains a sincere dedication to superior customer service and an honest and ethical approach to acquiring new customers. This vision has enabled Encore to become one of the fastest growing companies in the industry excelling in all aspects of merchant services. Encore Payment Systems is located at 3801 Arapaho Road, Addison, Texas 75001. For more information, visit http://www.encoreps.com , http://www.twitter.com/EncorePS or http://www.facebook.com/EncorePS