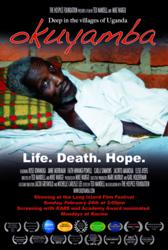 Long Island, NY (PRWEB) February 08, 2013
Three award-winning documentary films will screen in a single block on Sunday, February 24, 2013 at the 29th Annual Long Island Film Festival, being held at The Hyatt in Hauppauge, New York.
"Okuyamba," the Lugandan word meaning 'to help,' focuses on the common mission shared by a small band of palliative care nurses working tirelessly to ease the pain and suffering of AIDS and cancer patients, dying deep in the rural villages of Uganda. Filmmakers Mike Wargo and Ted Mandell take viewers deep into the forests of Uganda and offer a glimpse of the astounding challenges facing its terminally ill people. Sharing the stories of the 90 percent of the population who receive no assistance with pain or comfort during their final days, the filmmakers also capture the difference palliative care makes in the lives of those receiving it.
Released in 2012, "Okuyamba" has won numerous awards, including the National Hospice Foundation's Inaugural Morfogen Art of Caring Award as well as awards from the Indie Fest, Best Shorts, Accolade Competition and Prestige Awards.
Every third Monday of the month, two bold, brassy sisters open the doors of their Long Island hair salon to women diagnosed with cancer. Oscar® winning director Cynthia Wade's film, "Monday's at Racine," captures the images as locks of hair fall to the floor, women gossip, giggle, weep, face their fears, and discover unexpected beauty.
"Monday's at Racine", which is a nominee for Best Documentary (Short Subject) in this month's Academy Award competition, has already won several accolades, including the Audience Award for Short Film at the 2012 Boston Independent Film Festival and an Honorable Mention at the Silverdocs Documentary Festival.
"RARE" is a feature-length documentary that follows an extraordinary mother in a race against time as she unites a group of isolated people from around the world in a quest to cure her daughter's rare genetic disease. Directors Maren Grainger-Monsen and Nicole Newnham take viewers into the world of what it is like to live with a rare genetic disease and opening an intimate window into the world of clinical trials. RARE, which won for Best Feature Film at the 2012 Brooklyn Girl Film Festival, was broadcast on PBS stations nationwide last summer and fall.
The films will screen in a single 2-hour block on Oscar® Sunday, February 24, 2013 beginning with Okuyamba at 3:09 p.m., immediately followed by Monday's at Racine at 3:39 and RARE at 4:18 p.m.
The 29th Annual Long Island Film Festival is taking place in the Hyatt Regency Long Island at Wind Watch Golf Club, 1717 Motor Parkway, Hauppauge, New York. Visit the films websites for more information at http://www.okuyamba.org, http://mondaysatracine.com, http://www.rarefilm.org. Festival details are available at http://www.longislandfilmfestival.org.