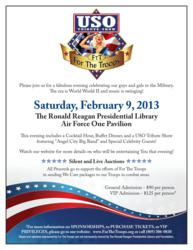 "We are honored and pleased to offer our support for our men and women of our Armed Forces and we thank them for their service"...Paul Hanson, CBC
Simi Valley, CA (PRWEB) February 03, 2013
California Body Care is now supporting the USO Tribute Show at Ronald Reagan Library. This skin care products and skin care systems company makes a significant move in support of this military celebration. This is a fabulous night where the theme will be World War II and the music is swinging. It will be held on the 9th day of February 2013, Saturday at The Ronald Reagan Presidential Library Air Force One Pavilion. This special event evening includes a Buffet Dinner, Cocktail Hour, and USO Tribute Show featuring Angel City Big Band and other special celebrity guests.
California Body Care will be contributing numerous products to this cause to support the troops through the silent auction to be held at the event. The items include entire line of Hydrating Skin Care System and other skin care products such as Vitamin C Crème, Collagen Elastin Crème, and Liquid Gold. The USO benefit is a way of showing the full support of our troops.
On the same night of the USO Tribute Show, there will be silent and live auctions to be conducted. All proceeds will go to support the efforts made by For The Troops in sending We Care packages to the combat soldiers in different areas. For general admission, it only costs $90 per person and for the VIP admission, it will be $125 each person.
This event will provide lots of benefits for both men and women of the military. It can be a way of encouraging more people to participate in this fabulous night and get familiar with the California Body Care Skin Care Products and Skin Care Systems. By way of support for this event, people will also become aware about the existence of this company and its national exposure the company enjoys through its 10 plus years in their online presence.
California Body Care is located at 5310 N. Commerce Ave. Ste. G., Moorpark, CA 93021. The Reagan Library is part of its community and the USO benefit is its ways of showing support for the armed forces' men and women while assisting those who work hard to make the benefit a success. California Body Care also aims to provide the highest quality skin care products at direct to consumer value pricing.
###
For further information, visit their site http://www.californiabodycare.com or contact them by personal mail at P.O Box 105 Moorpark, CA 93020. For more direct contact, please call (805) 529-7597.